Video Of Uber Driver Forced To Enter A Black Maria Because He Allegedly Joined The Ongoing Protest (Graphic)
As it's no longer news that there is an ongoing EndSars memorial car procession and also a protest as regards to the request of an end to police brutality in the country not being met, different things have been happening.
During this car procession, footage of an Uber driver (whose identity is still undisclosed) being rough handled by police men during the process of forcefully putting him in a black maria has surfaced online.
To worsen this case, he was really rough handled to the point that he was bleeding in his face. This may have resulted from a bruise which he sustained as his face scratched the ground because he was carried upside down by the policemen.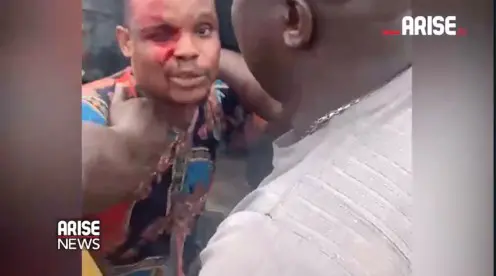 Later moments in the short clip showed him raising up his hands with a phone on his hand and it was as if he was begging and at the same time crying.
This shouldn't be done. This is a peaceful protest and the irony of it is that, what the youths are fighting against is what they are actually doing to them today.
We should judge with our sense, is this right?
Below is the video of the man being forced into the black maria:
What can you say to this?