Sh0cking; Pictures of the Slave Port where the Nigerian Slaves were kept and Transported from
One of the many things that define us as a country are our historical moments. Nigeria, as we all know have historical moments, some of which were horrible and sad while others were with a happy ending. Such historical moments can never be forgotten and will continually be told as a story to our children and those yet unborn. One of such horrible and sad historic moment was the slave trade that occured not only in Nigeria, but also in some West African countries within the 15th century when the Portuguese started exploring the coast of West Africa.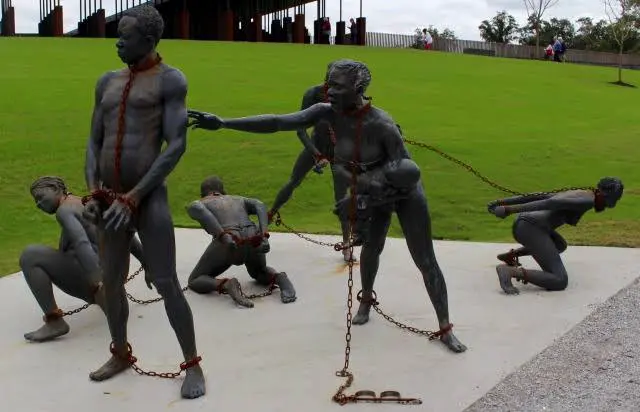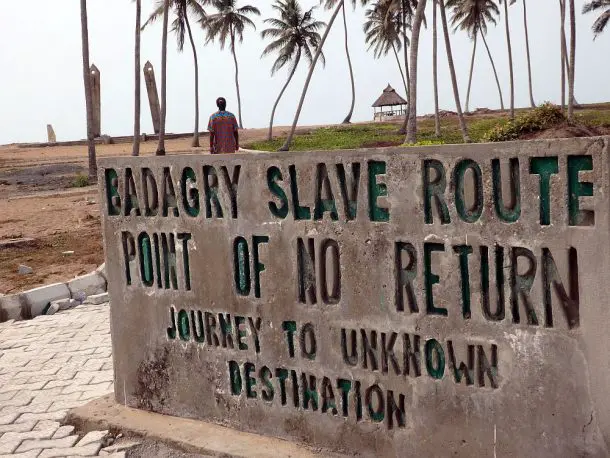 Before Nigeria became a Nation with her various tribes and ethnicities, bounded by a national tie after colonialism, she was made up of 3 major ethnic groups namely, the Igbo's in the South East, the Yoruba's in the South West and the Hausa's and Fulani's in the Northern part of the country. Aside these tribes, a well known kingdom which was in existence then was the Benin Kingdom.
These major tribes were usually at war with each other and within themselves, and such moments ended up in raids, capturing of slaves from war and/or capturing of more territories from a defeated enemy.
This article therefore, sheds more light on how Nigeria became part of the Transatlantic Slave Trade and the monuments that keeps those memories alive.
As stated earlier before, the Portuguese in the 15th century, started infiltrating the coast of West Africa and when they gained entrance into Nigeria through the shores of Badagry, about an hour drive from Mainland, Lagos State, they established trading camps for trade of some products such as palm oil, dyewood, Ivory and others with the Nigerian locals. Trading of these products was their initial plan.
However, by 1650, this trade of products changed into trade of human beings. This trade of humans indeed left a horrible and lasting legacy to the descendants of people from the affected regions, as well as other West African countries like Benin, Senegal, Ghana and Gambia who were also captives in the slave trade.
The new trade is said to have occured because of first, the development of plantations on the newly colonised Caribbean Islands and America, and secondly, because of the need for more labour force to build the 'New World'.
With increase in slave trade, other European nations joined in namely, Britain, France, Germany and Spain and by 1760s, Britain had the largest number of slave ships establishing route from West Africa to the British colonies of America, where the demand for slaves was on the increase and usually met at auctions and slave markets.
However, the European traders did not enter the inland of these West African countries but decked their ships on their coasts. This was as a result of fear of diseases or attacks. Those who were given the job of capturing these slaves were the African traders who were most times in the command of village chiefs or leaders who were in partnership with the European traders, trading slaves for products from the Europeans, like alcoholic beverages, brass, mirrors, canons, umbrellas, kettles, etc.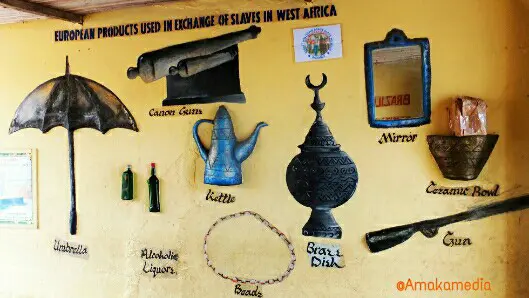 European Products used in exchange of slaves.
In Nigeria, two major slave routes were established. One was in Badagry, Lagos State, and the other was in Calabar. In Badagry, only slave cells known as Seriki Faremi Brazilian Baracoon existed to house the slaves while they awaited a further journey. They would cross a lagoon to the 'point of no return', where the British vessels waited after 30 minutes walk, to ship them to their country. This prison holds as many as 40 slaves per cell before they were sold to the European slave traders. Today, the Baracoon shows artefacts and wrought iron chains of various types, shapes and sizes used on both males, females and children.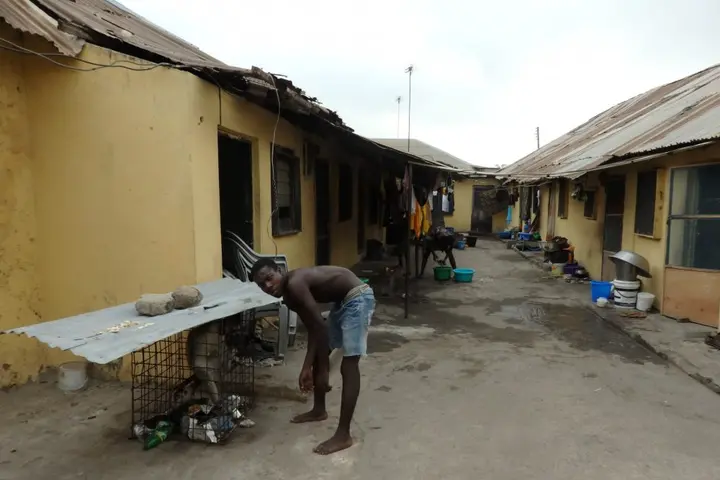 Seriki Faremi Brazilian Baracoon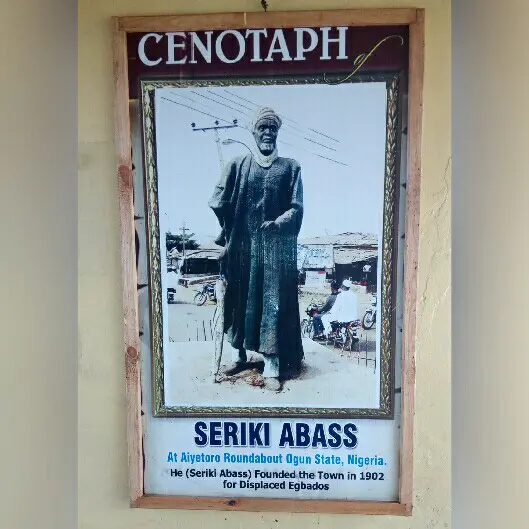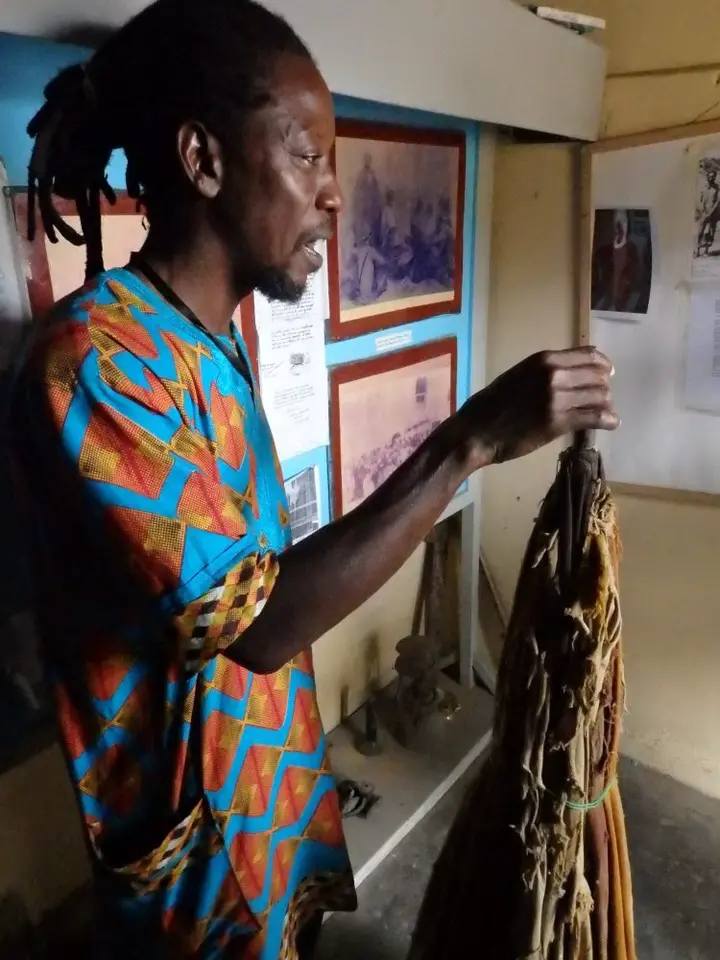 Seriki Faremi yellow umbrella.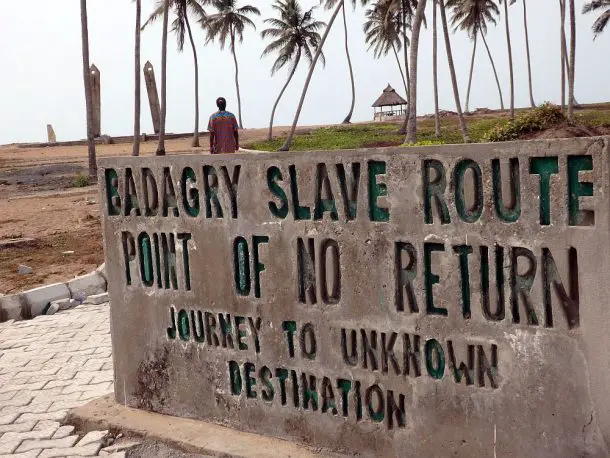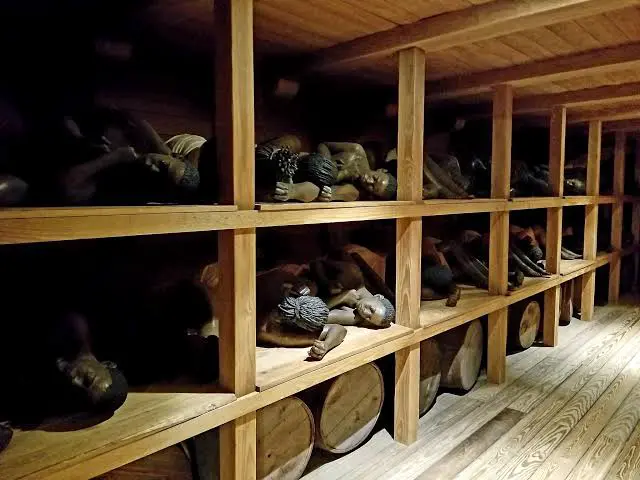 The Vlekete Slave Market was also established in 1502 and served as a trading point for European and African slave traders. It was at that time, the largest slave market in West Africa with about 300 people being sold into slavery on every 'Vlekete Market Day'. The slaves were usually exchanged for European products such as mirrors, iron bars, canons, dry gins, guns, and whiskey.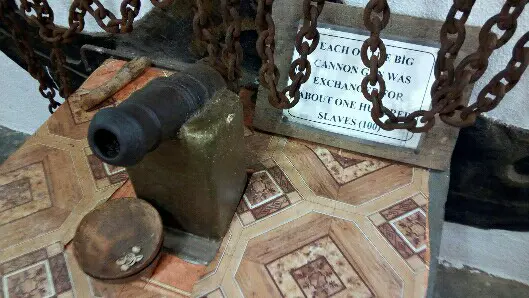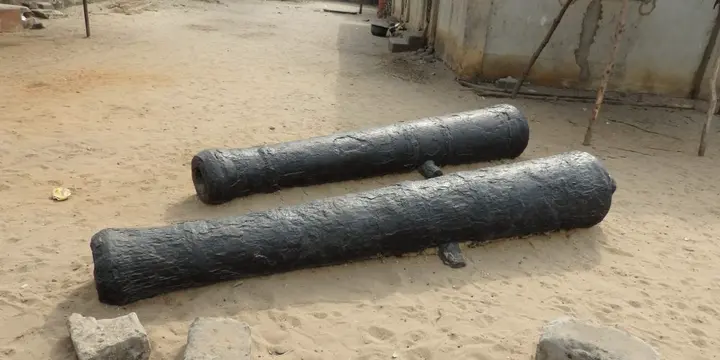 Canons which were exchanged for slaves
The Mobee Royal Family Slave Museum is one place that houses some objects used by the slave traders to control the slaves. The types of chains used include a mouth lock, used in preventing the slaves from communicating and eating the sugarcane from the plantations, and handcuffs for babies, used to chain the children of the slaves so that they will not distract their parents while working.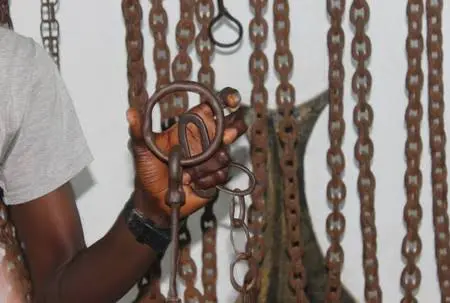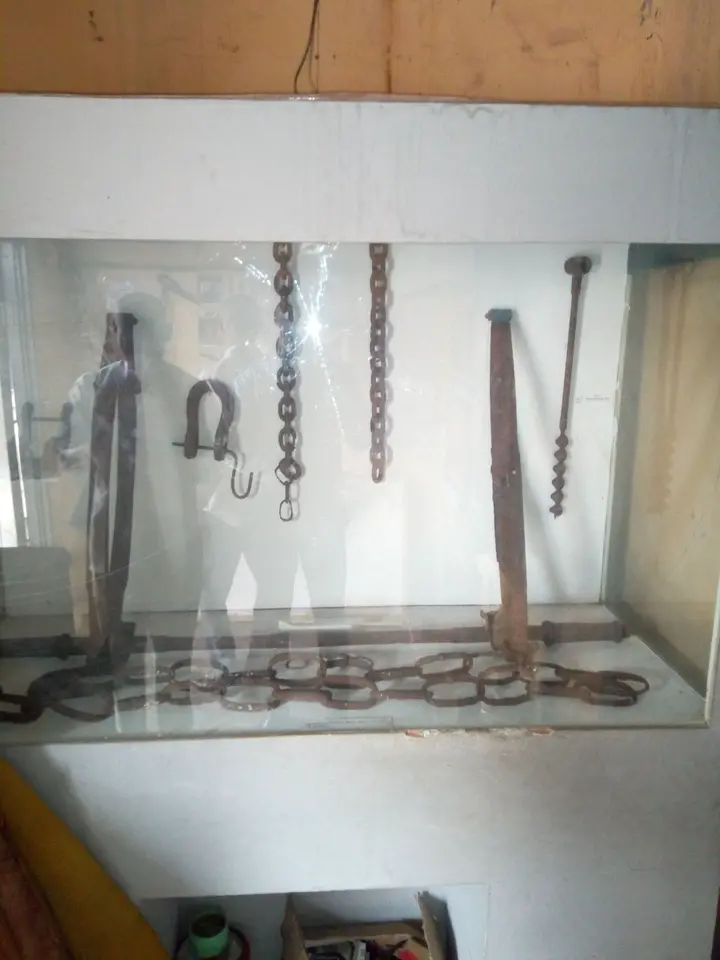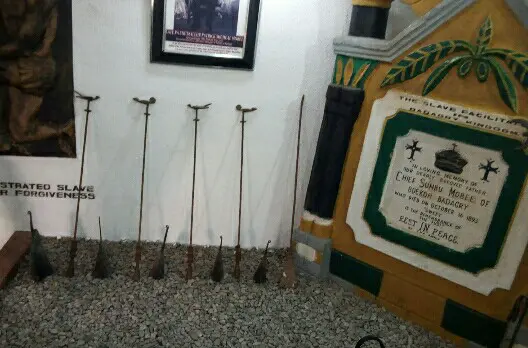 Different types of Chains used on the slaves.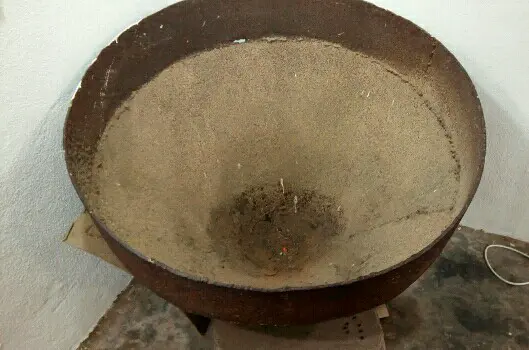 Drinking bowl of slaves.
The Calabar Slave Museum has four main exhibitions. First the Esuk Mba slave market in Akpabuyo, which showcases how slaves were raided and enslaved captives of war or parents who sold their children in hope of them having a better life out there. Then, the chains and shackles exhibition, which showcases what were used to control slaves and discourage resistance while they travelled long distances. Third, the buying of slaves exhibition showcases the currency and barter system used to trade slaves, from copper bars and Dane guns, to brass bells, gongs flutes and more. This exhibition also shows the creative ways in which slaves were arranged on a slave ship. The last exhibition shows the abolitionists who worked hard to bring the Transatlantic Slave Trade to an end.
Slave traders such as Seriki Faremi Abass and Chief Mobee were popular slave traders who helped in the slave trade, exchanging slaves for housewares and other items, since the Europeans did not accept the cowries that was used in Nigeria at that period as a means of trade.