How Core Northern Cabals Plot To Settle For Godswill Akpabio As Their 2023 Presidential Candidate
The 2023 presidential election is fast approaching and Southern Nigeria may produce the next President going by the rate at which Southern Governors are demanding power shift.
Some Southern politicians in APC like Bola Ahmed Tinubu and Yemi Osinbajo are believed to be interested in the 2023 presidential election although they have not officially declared their intentions.
Former Akwa Ibom State Governor, Godswill Akpabio has not shown signs that he is interested in the 2023 presidential race.
But a report on This Day newspaper has it that some Northern cabals may settle for him as the presidential candidate they will support in 2023.
That will form the basis of our discussion in this article.
How does the North plot to settle for Godswill Akpabio? 
Mr. Jubril Tafida the convener of Senator Godswill Akpabio For Common Good ( SGACG) led some prominent Northern politicians to Kano to drum support for Akpabio ahead of the 2023 presidential election.
Kano State is one of the North-West states that have a high voting population. The state gave President Buhari over 1 million votes in the 2015 and 2019 presidential elections.
These Northern politicians were smart to have converged in Kano to drum support for the Minister of Niger Delta affairs.
They used the National Interest magazine which they launched in Kano to correct any political misconceptions some people have about Akpabio. For example, the scandal that rocked the NDDC last year, a commission under the Ministry of Niger Delta Affairs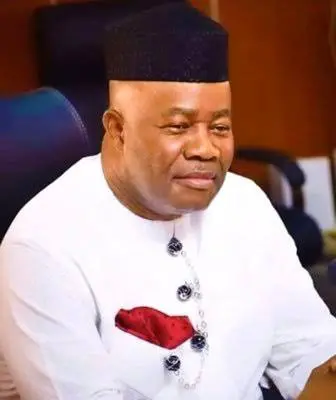 My understanding is that idea of that magazine is to present Akpabio as someone who has the interest of the country at heart.
Although Akpabio has not declared interest in the 2023 presidential race, the efforts of some Northern cabals to present him as someone capable of leading the country in 2023 is a great boost to his political career.
The North has a higher voting population than the South and any southern candidate they support in 2023 may win.