Oguta Crisis: 'We Can't Lose What We Worked For Because Of One Foolish Person' – Uzodinma Vows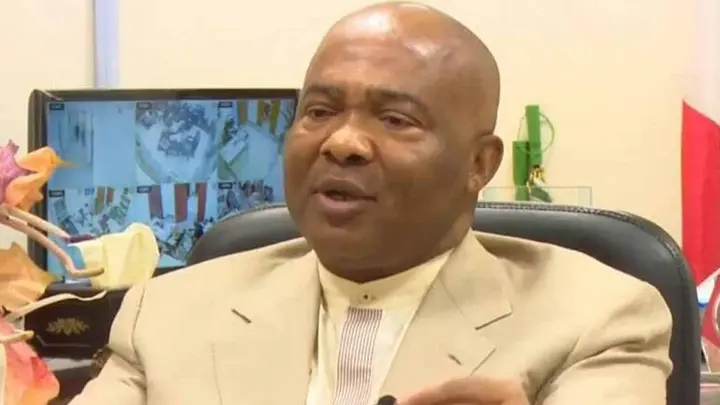 The Executive Governor of Imo State, Hope Uzodinma has vowed that the people of his state will not lose all that they have labored for in the past. The governor made this statement on Tuesday during his visit to the Izombe community in the Oguta Local Government Area of the state.
Recall that the community has been in crisis since Friday last week after a clash between a group of hoodlums and the Nigerian army led to the death of two soldiers and an indigene, with scores of houses also destroyed in the process. It was gathered that the hoodlums were led by a man known only as 'Obele' who is suspected to have escaped from the Owerri Correctional Facility.
Expressing his sadness at the unfortunate incident, Uzodinma vowed that he would not rest until the perpetrators of the attack on the soldiers in Izombe are brought to justice. He also promised to constitute a committee to begin the process of rebuilding houses damaged during the clash.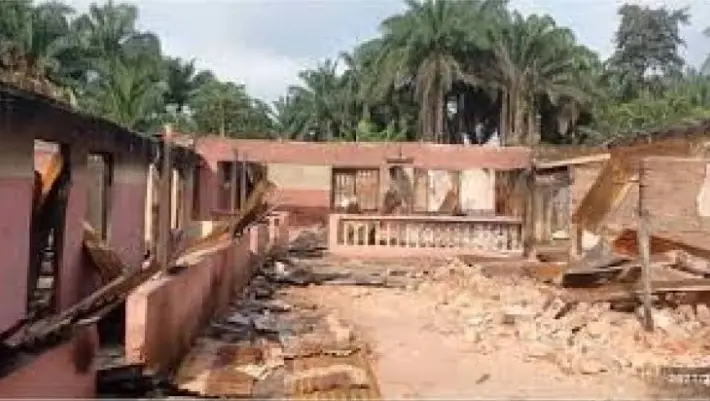 One of the destroyed houses. Credit: The PUNCH.
"I am shedding tears. I am shedding tears because the properties of my brothers and sisters suffered to build were burnt. I would not have been a Senator without the kind of support I got from Izombe.
I take Izombe as Omuma, my home town. It is painful all our sufferings, struggle, and God answered our prayers. It brought us blessings. Instead of us continuing to see blessings we are seeing obstacles. God will punish those behind all these happenings.
Why we gave birth to these children is to grow and be useful to us and that they will listen to our advice. Let us advise them and what I want to tell you people; what happened will never happen again. We can't suffer for years and waste all we labored for in the past, just because of one foolish person. We will never allow it again. I have seen how the houses were destroyed and how people abandoned their homes. I give the youths in Izombe seven days to return weapons in their possession. I want to say this, I will disappoint my enemies and Imo State will continue to move forward", he said.