Sit-At-Home: Any Shop That Fails To Open Will Be Shutdown – Says Governor Dave Umahi
Following the directive of the Indigenous People of Biafra (IPOB) some states in the eastern part of Nigeria are in complete lockdown. Remember it was earlier reported that the Indigenous people of Biafra had warned all their supporters to continue their sit-at-home protest.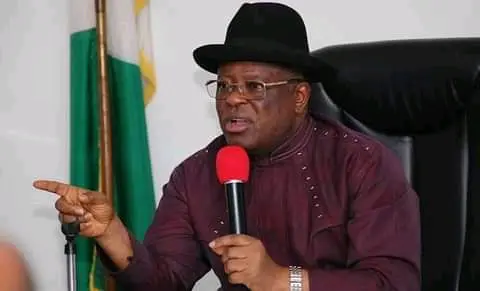 The executive Governor of Ebonyi State Governor David Nweze Umahi has directed that all public and civil servants resume work and whosoever fails to resume work stand a chance to lose his or her job. Similarly, that any shop or bank that fails to open for business activities today stands to lose the right of operating in Ebonyi state.
He issued this statement through the Secretary to the state government and Coordinating commissioner Dr. Ugbala Kenneth Igwe, he revealed that the Governor of the state Governor Dave Umahi will personally be on the road, ministries, market, and other public places to monitor the level of compliance by the people of Ebonyi State.