Repentant Boko Haram Commander, Adamu Rugu-Rugu Confesses His Regrettable Experiences
For more than two months now, the unbearable military onslaughts on the Boko Haram/ISWAP terrorists have been forcing thousands of them who have managed to survive to hastily repent from treading the path of terrorism, and, thus, embrace government amnesty. And it is not just the ordinary members who have been surrendering themselves; many of their commanders have also done so. One of them is known as Adamu Rugu-Rugu.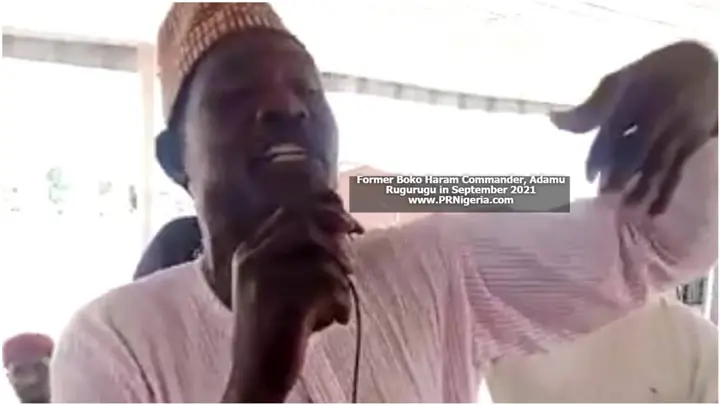 Before Adamu Rugu-Rugu surrendered with his three wives and children to the troops on the 12th of last month, he was known for deadly attacks against the troops and commuters around Mandara hill and Sambisa forest in Gwoza area. And based on reports, he used to be an Amir (a senior commander) of the Boko Haram terrorists group.
Yesterday, Rugu-Rugu opened up about the evil nature of the terrorists faction that has caused unbelievable destructions in Nigeria and her sister Nations. According to him, the foremost leaders of the deadly sect do not go to battle grounds. Rather, they send the ordinary members to go and die there. He also said that they force people with gun and false teachings to join the futile course with the assurance that it is Allah they are fighting for. Furthermore, the repentant terrorist commander lamented on how they made their recruits to believe that if they die during war, they will go to paradise. But he has come to discover that they are deceivers.
Agreed that Rugu-Rugu has not only surrendered, he has more so opened up on how the leaders of the Boko Haram/ISWAP terrorists merger do cajole and/or force their victims into joining them in their evil deeds. But there are however some sensitive disclosures he did not say. They include:
1.) The whereabouts of the remaining Chibok school girls who were Kidnapped in 2014.
2.) The whereabouts of Leah Sharibu who is the only one remaining among the Dapchi school girls who were abducted in 2017.
3.) What about the other Kidnapped persons?
4.) The hideouts of the foremost and most fortified leaders of the devilish group.
5.) Their strongholds, i.e. their most fortified and protected places in their hideouts. These include their arsenals and where they are located.
6.) As many of their sponsor he knows, if he does.
If, by chance, he has knowledge of any or all of the above, it might not be a matter of compulsion that he divulges it publicly; he can reveal them to the authorities who need them for their usefulness. But the fact remains that, for him to prove that he has honestly repented, he should open up on them.