Lekki Turns Hub of 'Yahoo Boys' as EFCC Nabs 402 Suspected Internet Fraudsters Within 3 Months
Cyber fraudsters have given new name to highbrow Lekki, Lagos. The area is now labeled hub of internet related crimes in Nigeria following the number of young guys arrested by Economic and Financial Crimes Commission, EFCC.
A total of 402 suspected internet fraudsters have been arrested by EFCC in Lekki between April and June, 2021.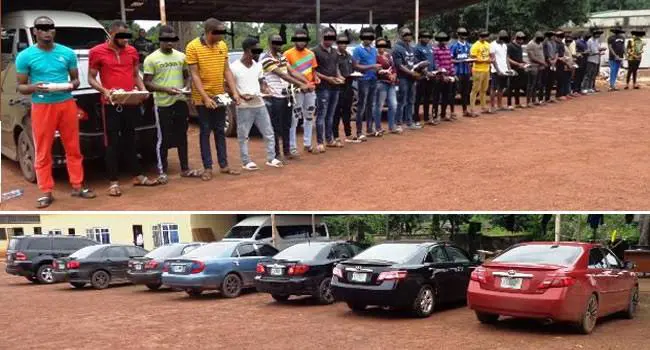 According to the data report by Lagos State chapter of EFCC, Lekki led Oniru, Victoria Garden City, Badore, Sangotedo and others in cybercrime.
With this bitter revelation from the anti-corruption crusader, it becomes necessary for government and other relevant authority to rescue Lekki from the tagged due to the activity of internet fraudsters in the community.
The 402 suspected internet fraudsters arrested by EFCC should be asked what led them to cybercrime. This becomes necessary since the age range of perpetrators are within 25-34years. They are active part of population any nation could proud of.
Afterwards, they should be prosecuted and face wrath of the law. Doing this will no doubt send signal to those that have intention to commit similar atrocities.
The landlords and real estate agent in the Lekki community be wary of those they give house to as rent. They should be proper documentation and profiling of the intending tenants in Lekki and its environs to guard against harbouring internet fraudsters in Lekki.
After prosecution, the government should rehabilitate them and look for possible way of empowering them so that they won't go back to what put them into trouble.
As a way of making sure that people desist from the criminal act, government can come up with stiff penalties for internet related fraud in Nigeria. This will serve as deterrent for anyone planning to engage in the act.