Exposed: See What Oni of ife told President Buhari About Sunday Igboho And Nnamdi Kanu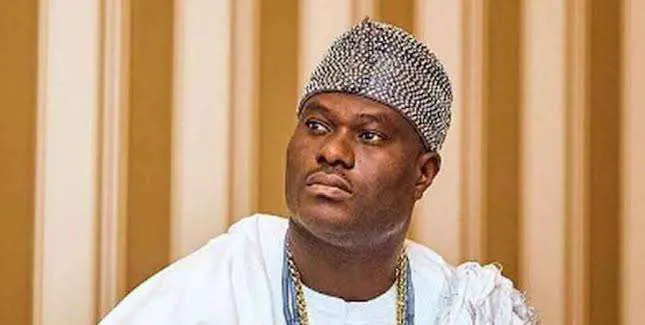 Instead of dismissing or killing Yoruba opponents and a group of other citizens in southern Nigeria, Oni of ife has urged President Buhari to look for a non-violent way. On Saturday, Oni of Ife asked President Buhari to escort the protestors to a round table by inviting them to come to Aso Rock or a public venue for discussion. Oni of Ife said the use of violence or guns would not end the separatist crisis unless political leaders respected the rioters by plotting.
On Saturday, Oni of Ife, Adeyeye Ogunwusi called on President Buhari to come down to the ranks of the people by resolving disputes amicably. While some people can resolve conflicts through the use of firearms and other weapons, Oni of Ife said such a process would result in loss of life and could lead to a war in the near future if careless. To save the lives of innocent people and good people, Adeyeye Ogunwusi asked President Buhari to negotiate with Sunday Igboho and Nnamdi Kanu if he is really determined to end the division.
Speaking on the division, Oni of Ife, Adeyeye Ogunwusi said many factors in Nigeria have made people feel isolated. While some people remain in power corridors for years, Oni of Ife said that some areas feel they have lost hope, they feel they are being exploited by those in power, because this, they felt they needed their own place as they organized their own speech. While this is not the best way for those who want to resign, he urged President Buhari to solve the problems of the people in other parts of the country and put them in government.
In an interview with Punch News, Adeyeye Ogunwusi said, "When people say they no longer want to be part of Nigeria, there must be a reason. Local people no longer want to be part of Nigeria. There is no such thing as a cave. chaos when the Yoruba were in power. "
The reason why people are no longer interested in the Nigerian society is because of the insecurity in this country. There are thieves and other problems in the country that may not be solved at any time. What President Buhari must do is not blame the protesters. What needs to be done is to sit them down and make them understand why such a thing is happening. I believe that Nigeria will get better but for now, the important thing is to solve the problem by talking to the people involved. "
Oni of Ife breaks silent, talking about insecurity in Nigeria