I Was In The Farm When He Attacked Me, I Begged Him But He Insisted And Ripped Of My Cloth- Lady
I Was In The Farm When He Attacked Me, I Begged Him But He Insisted And Ripped Of My Cloth- Lady
An 18-year-old girl identified as Sola has shared the horrific experience that she had with a Fulani Man who attacked her in the farm. In pain and tears, Sola was able to mumble a few words to explain how the incident happened. Sola recounted the sad experience of how she was deflowered in the farm by a Fulani Man that she wanted to help after he asked her for water, little did she know that the man was a devil.
According to Sola's story, she went to her parent's farm on that fateful day. It was harvest season so she went with her siblings to help their parents. The incident happened around 4pm when they were set to return back home after the day's work. She said they were getting ready to leave the farm when a Fulani herder approached them and begged for water. She said it was not the first time that strangers would beg them for water, so she decided to help the man.
Sola said when they gave him the water, he was very happy and he thanked them and went away. Sola and her siblings continued packing, ready to go home not knowing of the evil plan of the Fulani man. Few moments later, the Fulani man came again asking for more water. At this time, Sola became suspicious but she gave him the water anyways and decided to leave the farm with her siblings instantly.
She said they did not know that the Fulani herder was trailing them. They were on their way home when somebody suddenly hit her from behind. Before she could turn around, the man pounced on her and ripped off her clothes. Her siblings started crying for help. Some of them ran to the village to call for help but before villagers got there, the man had deflowered the young girl and fled.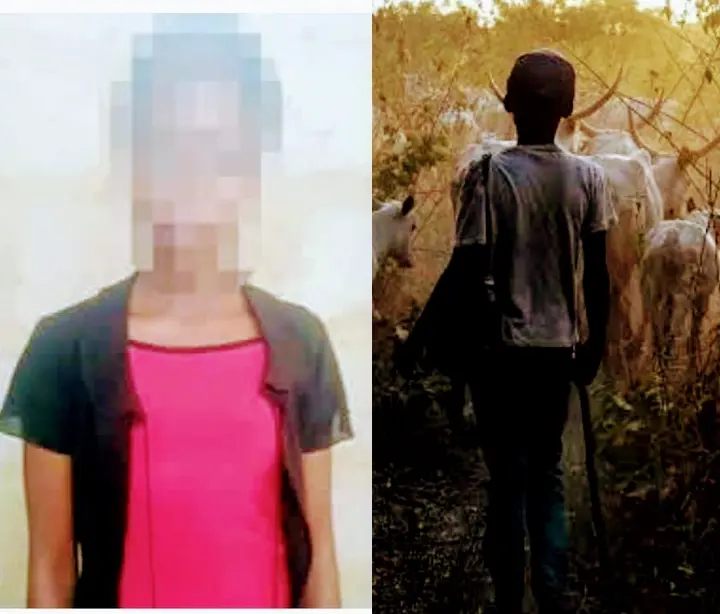 That memory has become a nightmare to Sola anytime she remembers it. She said she always wished she had never gone to the farm that day. Few weeks after the incident, the criminal herder was apprehended but Sola said that after the man was taken to the Police Station, the elders in the Fulani Community intervened and they let go of the man. She lost her virginity that she has been keeping for over 18 years just because she wanted to help the man. It is a very bitter and traumatizing experience for Sola. She lives with the memory up till date.