"I Was Insulted By Other Pastors On National Tv For 7 Years" ~ Bishop David Oyedepo
"I Was Insulted By Other Pastors On National Tv For 7 Years" ~ Bishop David Oyedepo
Kingdom Sermons has taken to their Social media official page to disclose to the general public what popular man of God – Bishop David Oyedepo, the general overseer and founder of Living Faith International Christian Church of God has said concerning how he was insulted by other ministers of God on National Tv For good seven years.
According to the Christian association page on Facebook, it was reported that the man of God gives reasons why no one should ever get angry because they were being insulted by anyone, and on this note he uses himself as a good example, narrating to the general public how he was criticized by other pastors on social media but despite all these he kept mute.
It was further revealed that Bishop Oyedepo keeping mute then was not because he doesn't have what to say to them but instead, he was too busy focusing on how to become bigger in his ministry and Life.
He wrote:
"HOW TO HANDLE INSULTS
Don't get angry because you're insulted. I was insulted by other pastors on National Tv for 7 years but I was too busy forging ahead and getting bigger.
Someone asked if we should settle the fight; I said there was no fight. If one boxer enters the ring and there is no opponent, he will go home. #BishopDavidOyedepo."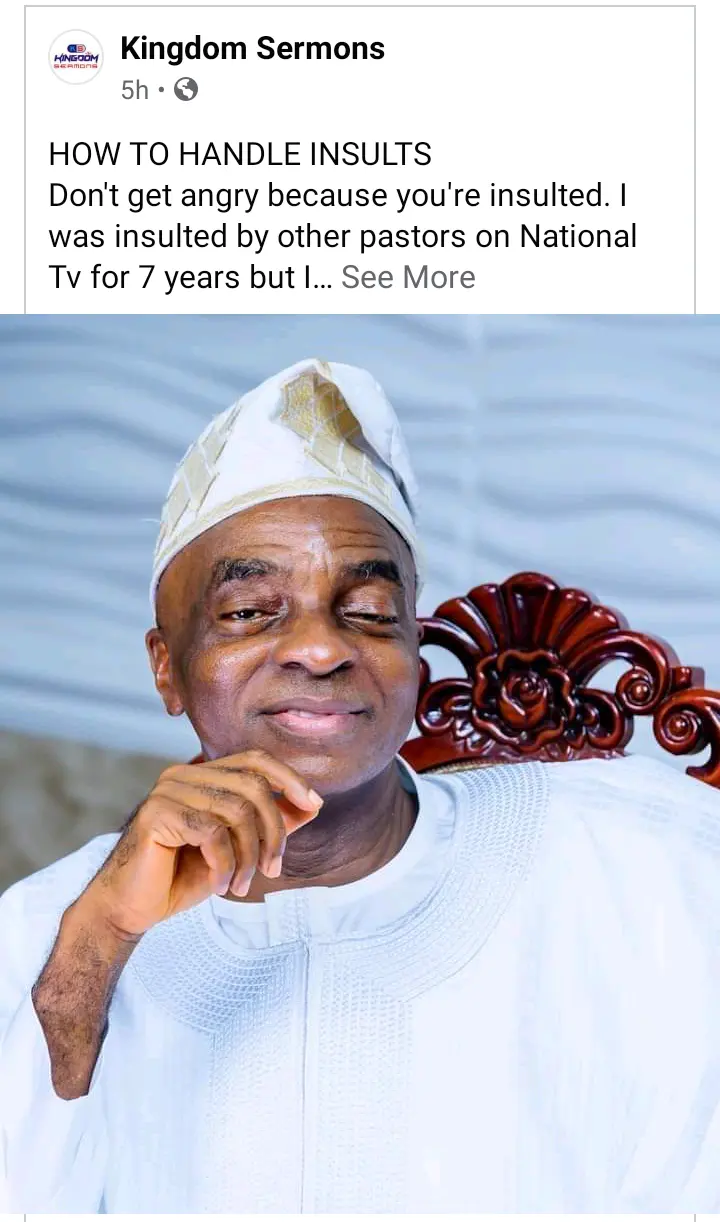 You might have been curious why the Baba Oyedepo has been so wonderful and humble even till this very moment despite all his achievements in God on Earth, According to Kingdom sermons, it's to fulfill God's will for his Life.
Social media users who come in contact with this powerful ministration concerning the man of God have reacted and from their responses and Emoji's been sent in the Comments section, it was ascertained that they have all learned one or two things from the true-life story of the man of God. See more reactions below.