"I Am 30-Year-Old With 10 Children, Am Also Pregnant With Baby Number 11" Lady Narrates.
"I Am 30-Year-Old With 10 Children, Am Also Pregnant With Baby Number 11" Lady Narrates
A 30-year-old mother has generated arguments on social media when she claimed that she is the mother of ten children and that she is presently expecting her eleventh kid, according to her.
Generation Wekesa of Navakholo Village in Kakamega County has stunned social media users by admitting to being a mother of 10 children, all of them are under the age of 20.
Adding to the stress of having ten children, the mother is also expecting her eleventh kid in the near future.
She tells TV47 that she has never expressed a desire to have as many children as she is now having, but that she is doing it because her husband requires it.
In an interview with a media outlet, she claims that her husband rejected the notion of adopting family planning and instead asked that they adhere to the customs of the Luhya Community.
Children, according to popular belief, are a source of riches and renown for a family, which is known as "watoto ni mali" (meaning "the source of fame and fortune").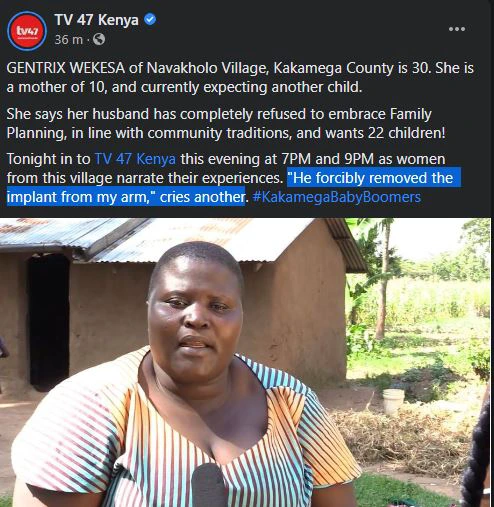 A family with a large number of children is seen as a lucky family in many Luhya cultures.
Jentrix Wekesa tells TV47 that she is expecting baby number 11, but that the arrival of the unborn child would not mark the end of the family's tradition of welcoming newborns.
She will be halfway through her pregnancy after receiving baby number 11, because her husband is totally committed to having up to 22 children, which is about the equivalent of two football teams.
Numerous males in Kakamega County, according to the source, are pushing their wives to bear them as many children as they like.
A minority of males in the county allow their wives to use family planning, with some even ordering their wives to stop using contraception.
Another lady complains that "he forcibly removed the implant from my arm."
Unfortunately, the majority of individuals who are pressuring women to have more children are reliant on others and live from hand to mouth. They are unable to send their children to school, yet they continue to regard children as a source of income.
Take a peek at the reactions of Kenyans.