Igbos Must Disengage Themselves From Biafra Activities If They Want Presidency
Igbos Must Disengage Themselves From Biafra Activities If They Want Presidency
Nigeria will hold her next Presidential Election in 2023 and this election will determine who will take over from the current President of Nigeria, Muhammadu Buhari.
There have been various debate with regards to which region the 2023 Presidency should be zoned to.
However, Igbos must disengage themselves if they want Presidency.
Reason Why Igbos Must Disengage Themselves From Biafra Activities If They Want Presidency In 2023
Nigeria is consisted of various regions and whoever will emerge President in 2023 must be a person who has love for the country.
Some politicians have suggested that someone from the eastern region should be given the chance to rule Nigeria.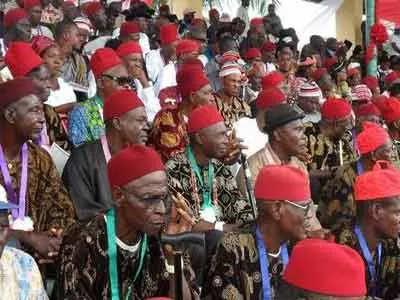 Over the years some Igbos have called for the creation of Biafra and it might be dicey to hand over Presidency to an Igbo indigene because of the fear of dividing Nigeria.
If Igbos are really interested in Nigeria's Presidency, they must prove to all Nigerians that they are not in support of Biafra.
Drop your comments below and share this post to others.