Video of Taliban Fighters Enjoying a Drake Song and Using AK-47s as Guitar Chords Goes Viral (Video)
Video of Taliban Fighters Enjoying a Drake Song and Using AK-47s as Guitar Chords Goes Viral (Video)
The Taliban Islamist group can't have enough of celebrating their victory after their triumphant infiltration and entry of the capital city Kabul and ousting Afghanistan's ruling government. This is evidenced in a video that has surfaced online, showing a group of fighters dancing to a Drake song.
Unperturbed by the unfolding, the group is dancing showcase all manner of dancing styles as some even use the AK-47 rifles in their possession as guitar chords.
The video came just hours after the fighters reportedly opened fire at protesters in Afghanistan's Jalalabad who took to the streets demanding the reinstallation of the national flag. At least 2 people have been killed and 12 injured in the clashes
At least12 people have been killed in and around the airport in the Afghan capital, Kabul since the Taliban seized the city on Sunday, triggering a rush of fearful people trying to leave.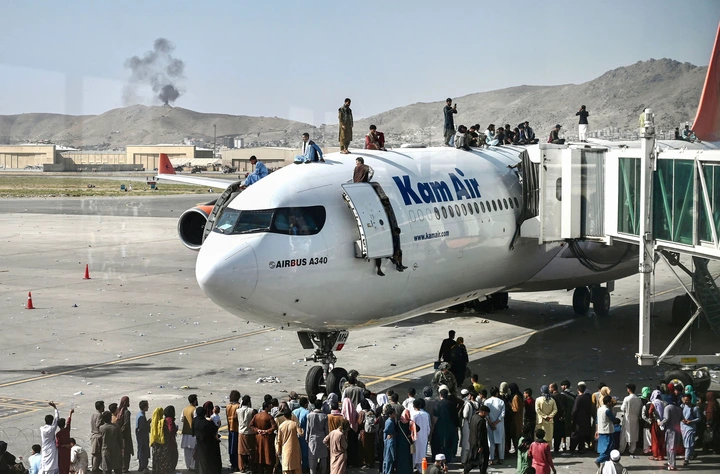 Photo/ courtesy.
The deaths were caused either by gun shots or in stampedes as per the Taliban and NATO officials.
According to Aljazeera, the officials have urged people still crowded at the gates of the facility to go home if they did not have the legal right to travel.
"We don't want to hurt anyone at the airport," said the Taliban official, who declined to be identified.
Meanwhile, the Taliban intends to replace the Afghan national flag with their white banner bearing the Shahada "La ilah ila Allah, Mohammad rasoul Allah" (There is no god but God and Muhammad is God's messenger).
Watch Video Below:
What can you say to this?