Zulus Are Not South Africans, They Fled From Their Country Shaka KaSenzangakhona- SA Man Reveals
Zulus Are Not South Africans, They Fled From Their Country Shaka KaSenzangakhona- SA Man Reveals
Zulus Are Not South Africans, They Fled From Their Country Shaka KaSenzangakhona- SA Man Reveals
A south African man who embark on Personal research Concerning the origin of Zulu tribes, has Allegedly come to a controversy conclusions that, Zulu are not actually bonafide south Africans, if their origin is Trace properly, the name Zulu is derived from KwaZulu, which implies that is a deep connection between the two name Zulu and KwaZulu, He added that Zulus are mostly found in East Africa countries Like Malawi, mozambique, KwaZulu and mozambique.
According to him:
A Malawian Zulu, the "Ngoni." They trace their origins to KwaZulu as the Ndebele People of Dzimbabgwe. They fled from Shaka KaSenzangakhona. The Nguni/Aba-Ngoni/Zulus are found throughout East Africa, Malawi, Zambia, Mozambique &Tanzania. Language& culture #afrika4afrikans.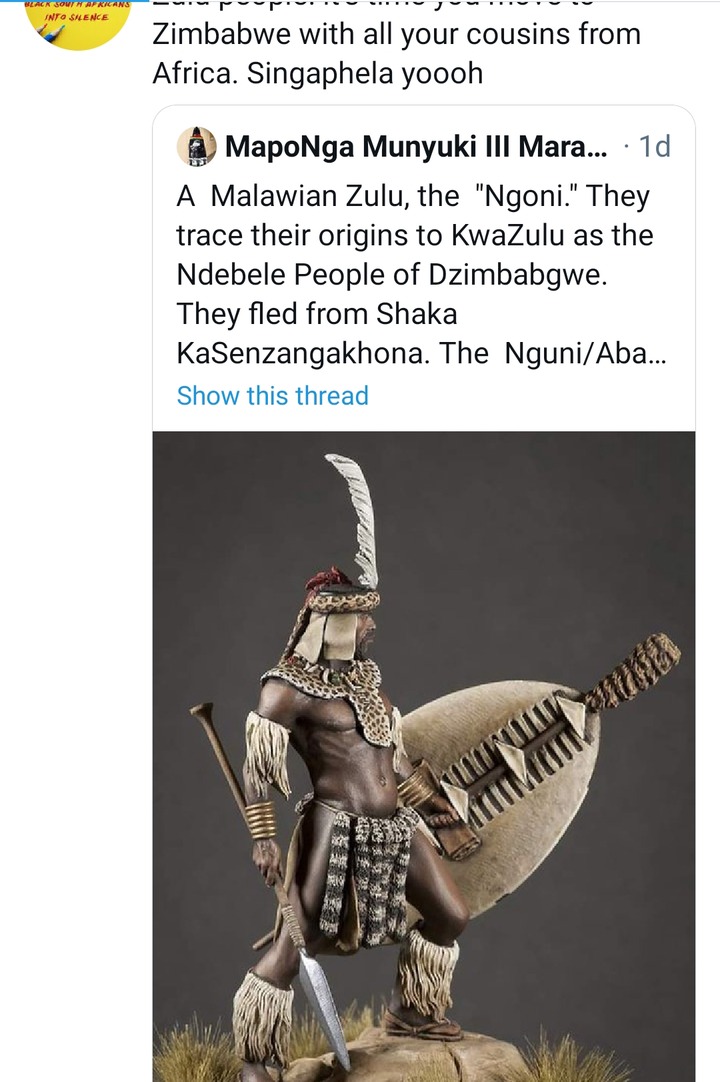 His declaration was objected by some south Africans who came out with their analogy about the origin of Zulu and their connection to others tribe which they came out From.
@Sifo
The Zulu ne of Malawi is kwaZwangendaba, and Mozambique is kwaSoshangane.
These were the names of brothers who were the sons of the Zwide Queen who ruled the Ndwandwe District which is today kwaNongoma where all Zulu King's palaces and Queens are found.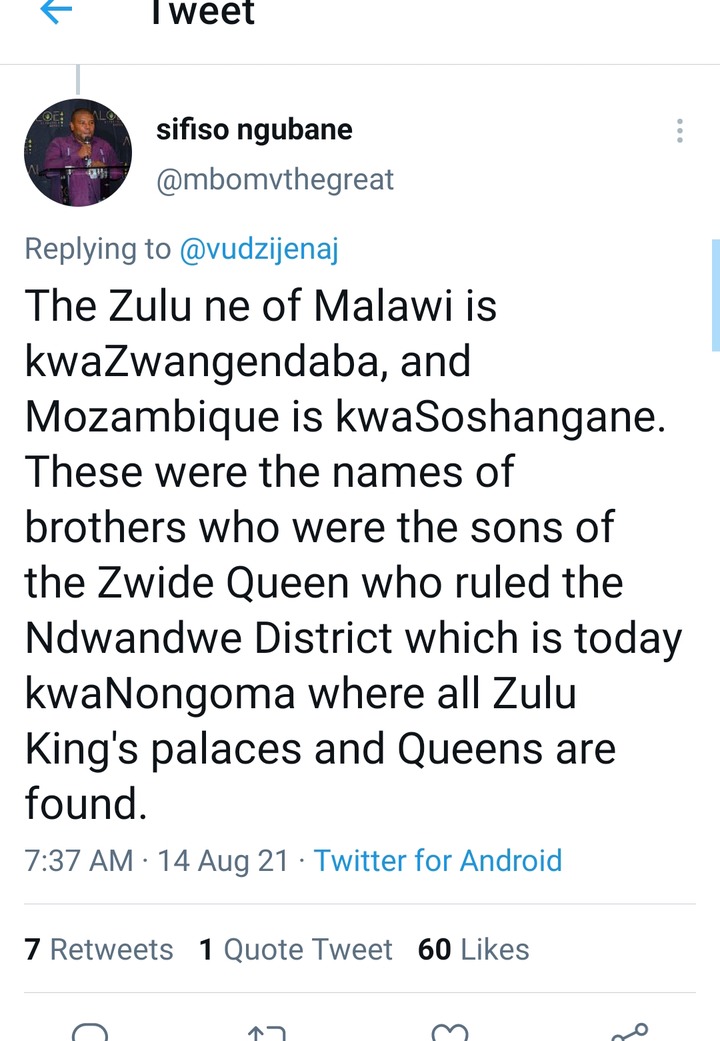 @Si
The Nguni are Bantu ! Bantu means groups of black people who are genetically, culturally, linguistically and geographically related! There are divided into Nkope and Kwala groups! Nkope includes all the Ngunis! Ngunis are the Bantu who hv a clicking sound in their speech….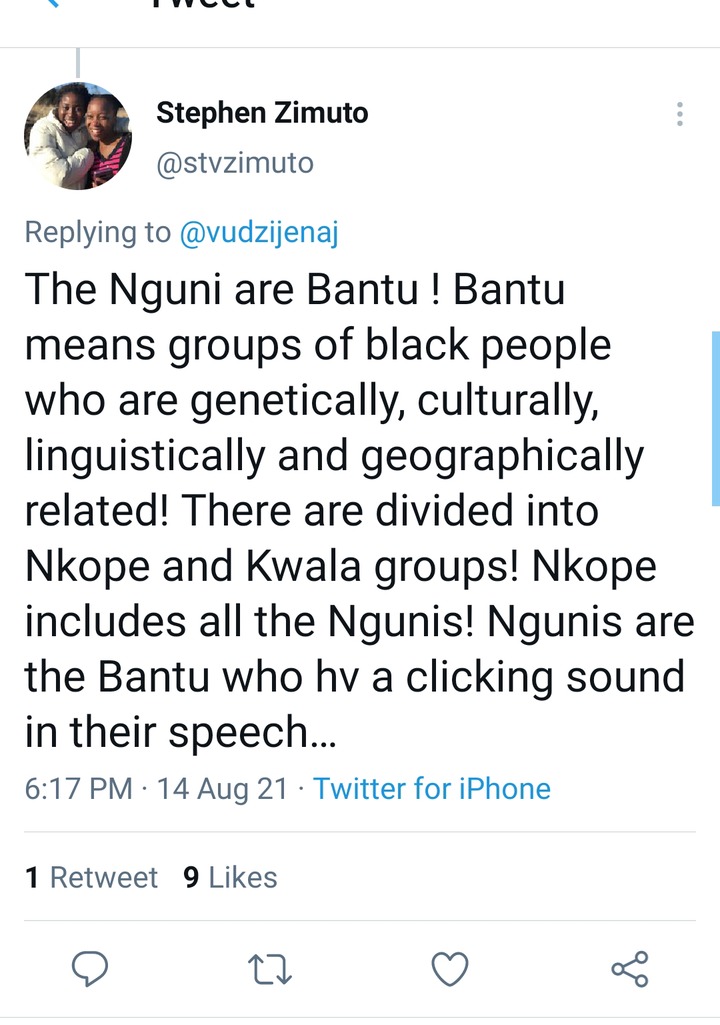 @Zn
There is also a little tribe called Tongas found in some parts of Mozambique and Zimbabwe if i am not mistaken, the dialect sounds similar to isizulu & ndebele, would be interesting to know their history.
I don't know if it's the same ppl we can refer to as amanyasa.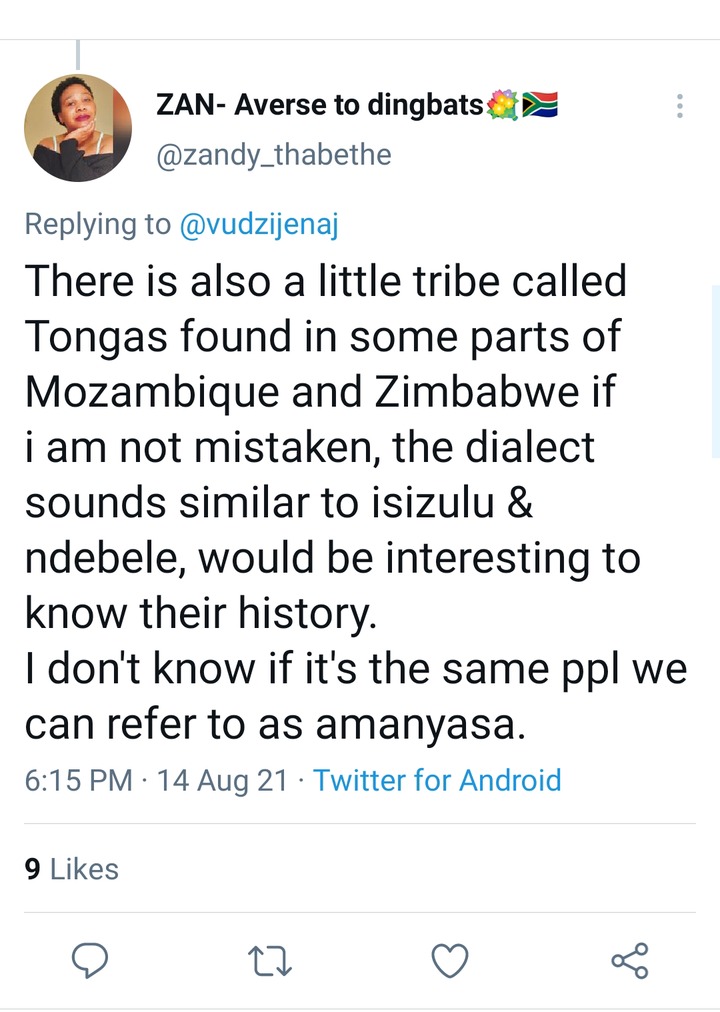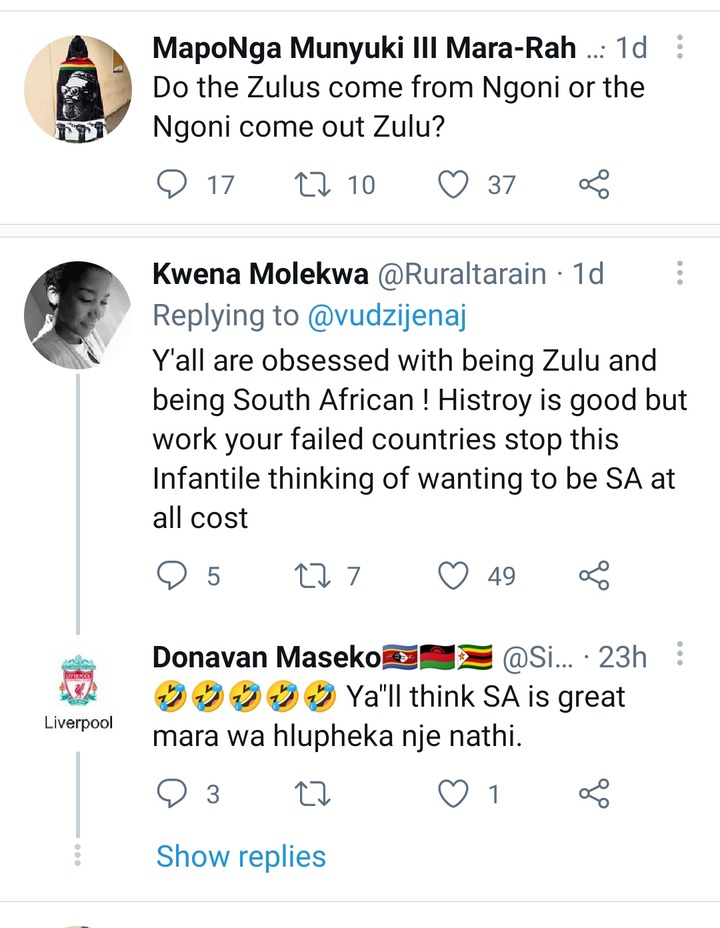 For better elucidation, we went on search about the origin of Zulu in order to debate if what that south African said is true.
Watch: My Dad Invited Me To His Room At 12am Midnight, See What He Did To Me After I Obeyed Him
According to history:
The Zulu people call themselves 'people of the heavens,' and they are South Africa's largest ethnic group, with an estimated 10 million Zulu people living in KwaZulu-Natal. The Zulu people's language is isiZulu, and roughly ten million people speak it fluently. They amalgamated into a large kingdom in the nineteenth century, led by Shaka.
Shaka assumed head of the Zulu tribe after his father, Senzangakhona, died. At the time, the Zulu clan numbered just 1 500 members. From 1816 through 1828, he commanded a 50-thousand-strong army (impi) that destroyed other tribes.
To beat the adversary, Shaka used a variety of military techniques. He invented the 'Assegai,' a short, large-bladed stabbing spear, as well as the fatal methods for wielding it. Shaka also ditched his leather sandals, which were obstructing his movements. He quickly established himself as a superb military leader and posed a threat to his clan.
He became insane after the death of his mother, Nandi. Shaka massacred hundreds of Zulu during his mourning. His half-brothers Dingaan and Mhlangana, the lesser chiefs, killed him. After Shaka's assassination, Dingaan, Shaka's half-brother, assumed control of the clan.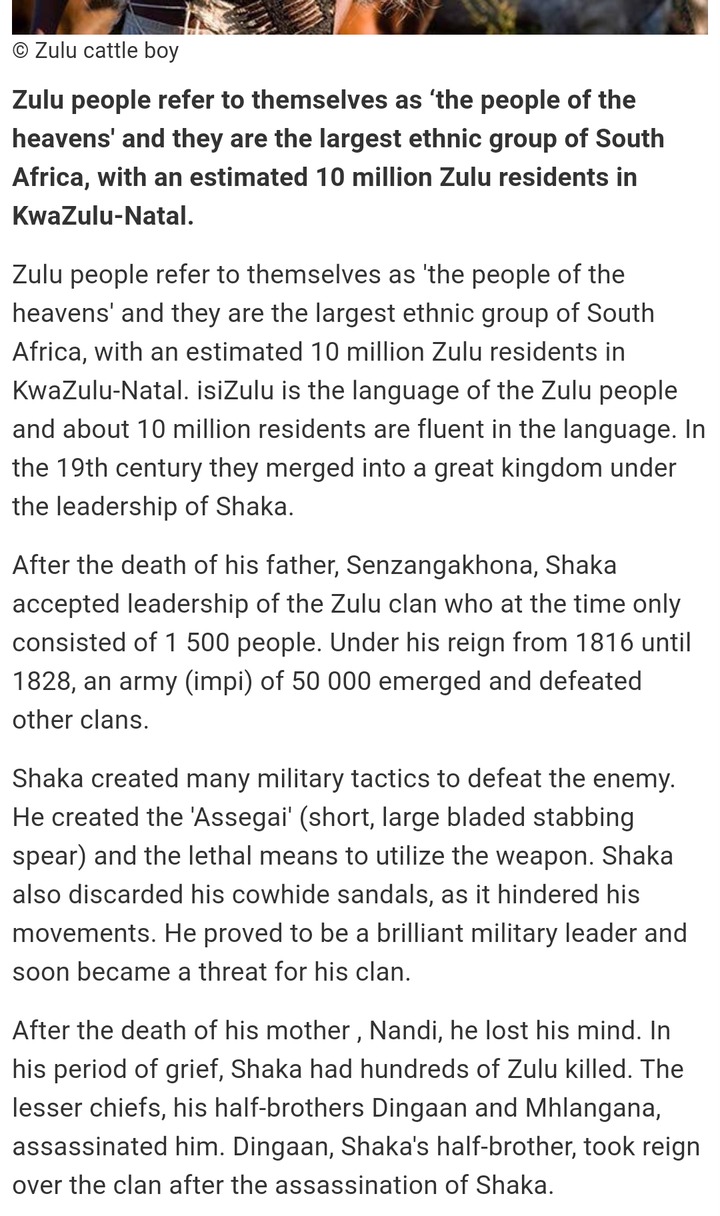 In your Own perspective view, do you think Zulus are south Africans?