Be Careful With What You Buy: Woman Captured Gathering Infested Dead Chickens For Sale (Watch)
Be Careful With What You Buy: Woman Captured Gathering Infested Dead Chickens For Sale. (Watch)
Ignorance, they say, is an incurable cancer that has claimed the lives of many individuals. Even the Bible anticipated that many people would be mislead by their ignorance, which is why it was said, "For the sake of knowledge, my people perish." However, there are those who are aware of what is stated but choose to ignore it and do the incorrect thing instead. Such people, in my opinion, are the most evil people in society, and they should be given a particular area to live. What am I trying to achieve with this article?
Bird flu was said to have hit the country not long ago, according to the news. Whenever there is an outbreak of bird-related diseases like the flu, a lot of poultry farmers lose a lot of chickens. When farmers lose chickens to the virus, it's pointless to sell the dead birds to consumers. The best course of action is to get rid of them.
On social media, a disturbing video involving a lady identified as Abiba has sparked widespread alarm. In the video, an unnamed man who appeared to have been watching the woman for a long time recorded Abiba, who collects hens that have died from unexplained diseases and have been discarded by farmers. According to the brief conversation between the two individuals, the woman has been gathering disease-infested dead chickens for sale on the farmers' backside.
As a market woman, the woman claims to smoke them for sale. She further stated that she was unaware that these birds had died as a result of infections.
Many people may have already made numerous purchases from Abiba. Her cruel and ignorant behavior, however, has been exposed today. Such people must be imprisoned because their idiocy has the potential to murder a large number of people. The government must also take steps to ensure that poultry farms do not improperly dispose of afflicted fowls, ensuring that they do not fall into the hands of such criminals. I'm sure Abiba isn't the only one involved in this shady enterprise.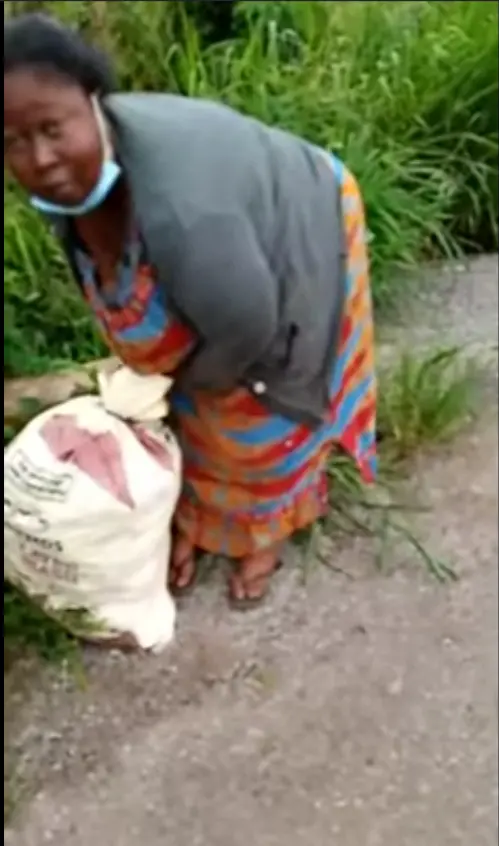 Watch Video Below: