Companies that Are Not Hiring South Africans Must Be Closed Down- Vuyo Zungula (Video)
Companies that Are Not Hiring South Africans Must Be Closed Down- Vuyo Zungula (Video)
Vuyo Zungula a member of south Africa ATM political party has Allegedly Dropped a Bombshell concerning the situation of unemployment in south Africa, Vuyo Zungula explained that companies that are not ready to employ south Africans but choose to hire foreigners Only, those companies must issue and fine and close Down immediately in order to create room for companies who are ready to employ south Africans.
He went further to explain, that it is very bad of south Africa government to persuade people to pursue education, at the end of it all after graduating they would be holding their degree with no job opportunities.
Vuyo Zungula, elucidate that, it is only a foolish person that would go against the idea of putting south Africans First in Every Sectors of the economy, because it is the right of south Africans to be considered First in their own country before foreigners.
However south Africans commend Vuyo for empathisis on the important of puts south Africans first, at least what he said create awareness for better understanding concerning put south Africans first Campaign.
@T
I think you add all the important stats on the #PutSouthAfricansFirst campaign. It will have more gravitas on it and help create more awareness about this country. I am talking abt the value of our economy, our mineral deposits, property industry, financial industry, etc. 😉.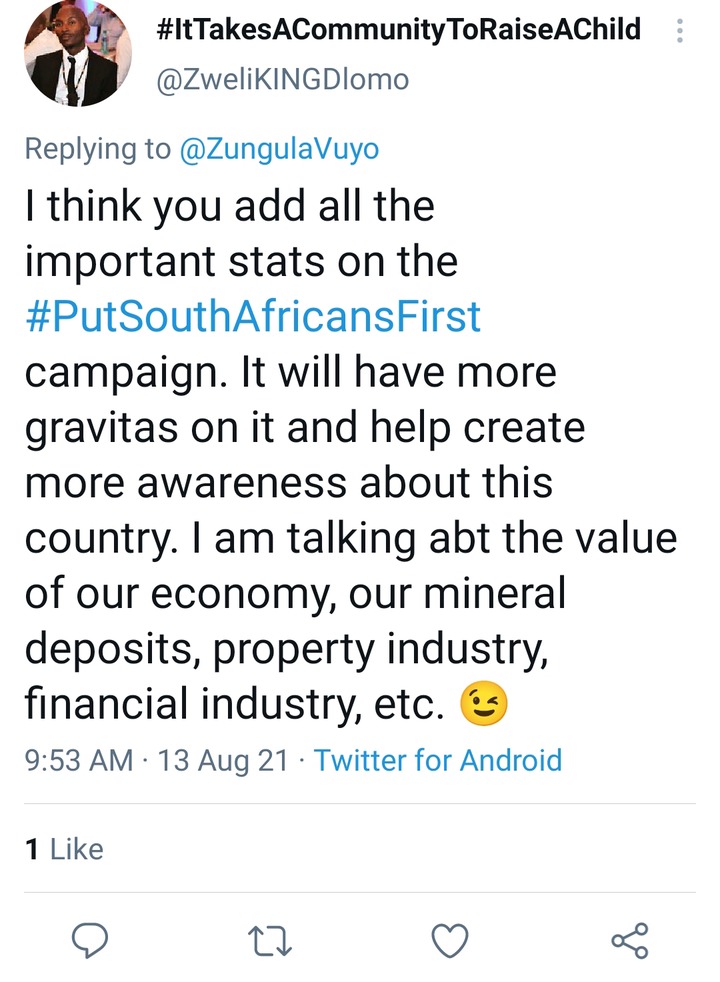 @p
But Vuyo please tell me man, what is stopping ATM on taking government to court for this? They must revoke all work permits granted, and deport all illegal immigrants also tighten our border security. #PutSouthAfricansFirst.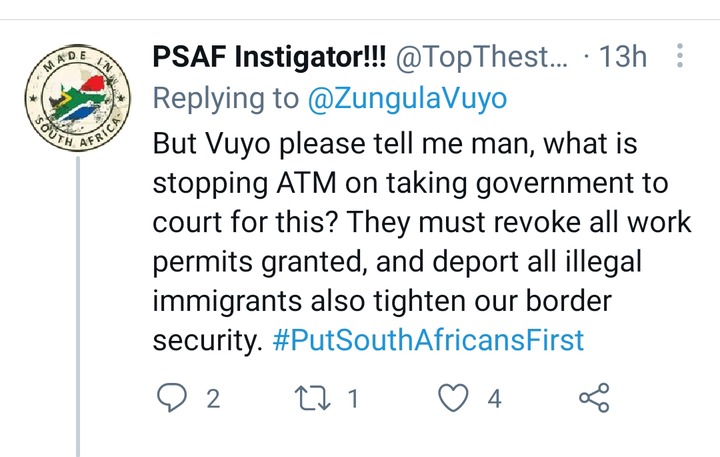 What can you say to this?