Kano Has Indigenous Christians, They Are The Original Indigenous People Of Kano- Aisha Yesufu Claims
A well known human rights activist, Aisha Yesufu has once again spoken. Aisha Yesufu is one woman who always speaks out when she feels like doing so without any fear or favour.
According to a tweet she made this evening, she started by making it known that there are no place where there are no indigenous people with a different religion from that of the majority.
Furthermore, she claimed that Kano State has indigenous Christians known as maguzawa. She went further and added that these people are the original indigenous people of Kano, just like native Indians of the United States of America.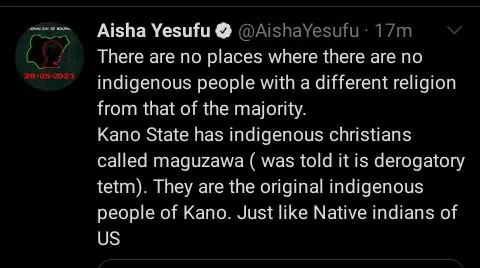 That is a good one from Aisha Yesufu. I think she has made a vital point here. There is no part of the world where you will not see indigenous people with different religion from that of the majority. In the south east region, there are Igbo Muslims, just the same way we have Christians in Kano State.
What is your take on this? You can drop your comments and opinions below.