The Civil War Ended 51 Years Ago, Is It Not Time For Buhari To Move On And Heal?- Reno Omokri Asks
A popular human rights activist, lawyer, Reno Omokri has taken to social media to ask perturbing questions after President Muhammadu Buhari appeared on Arise TV today. Reno Omokri in his words asked the president why he has not moved on, 51 years after the civil war happened. He stressed that the president's speech today is not impactful. Here is what he said, "General Buhari should have hidden his obvious hatred for the Igbo. His AriseTV interview was just brimming with disdain for the Igbos. The Civil War ended 51 years ago. Is it not time for Buhari to move on and heal?".
Here is a screenshot;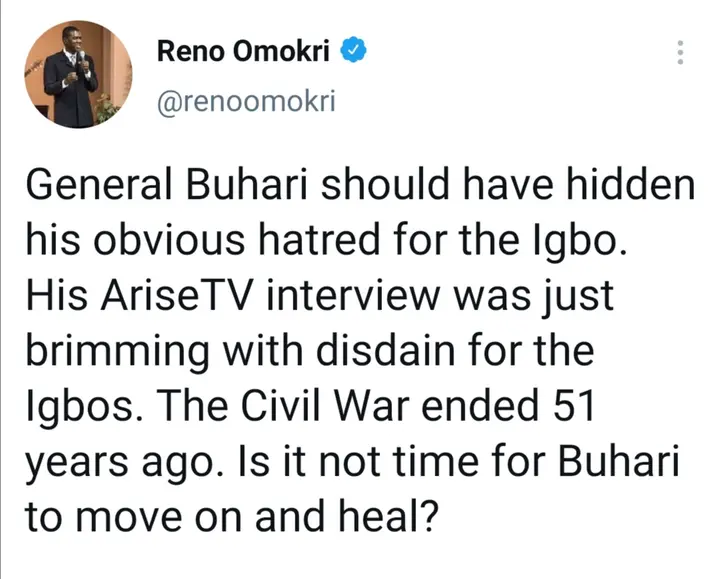 This post has attracted a lot of attention as many people are reacting to it. The majority think that Reno Omokri is overreacting. They however asked the former spokesperson to President Goodluck Ebele Jonathan to stop criticizing Buhari.
What do you think?.
• Do you think that Reno Omokri is overreacting?.
• Do you think that the President has healed from the war?.
My opinion.
I think Reno Omokri is overreacting. His criticism of President Muhammadu Buhari's speech shows that he doesn't like the president. I think that he should be open-minded when criticizing Buhari again.