Naledi Chirwa a Zimbabwean, Believes She's in SA Parliament Because of Bushiri Not EFF- Lerato Says
Popular south African lady who goes by the name Lerato has allegedly taken to her twitter account announcing to her fellow south Africans, that Naledi Chirwa who is in south Africa Parliament thinks she is there because of Bushiri not Because of those EFF voters that voted for her, Lerato shared a video footage showing the moment buhsir was interviewing her and she said of things concerning her position in south Africa as a member of parliament.
Lerato further Reveals on her captions, that Naledi Chirwa who most south Africans think she is a Citizen of south Africa, is never a south African Because she was born a Zimbabwean as her father is a Zimbabwean while her mother is a Citizen of Malawi.
@Lerato
Naledi Chirwa born of a Zimbabwean father and a Malawian mother, believes she's in parliament because of Bhusiri not because of EFF voters .
Watch Video below;
Her statement Resulted to a great controversy among south Africans on twitter and they Blame south Africans Government, for not scrutinizing people before making them members of parliament.
@Khaya
Some south Africans are sellout like malema. Defending foreigners every chance the get. Myb one day you will open your eyes.we are not hating on them but South Africans must come first. This country is all we have,they can still go back to their own countries.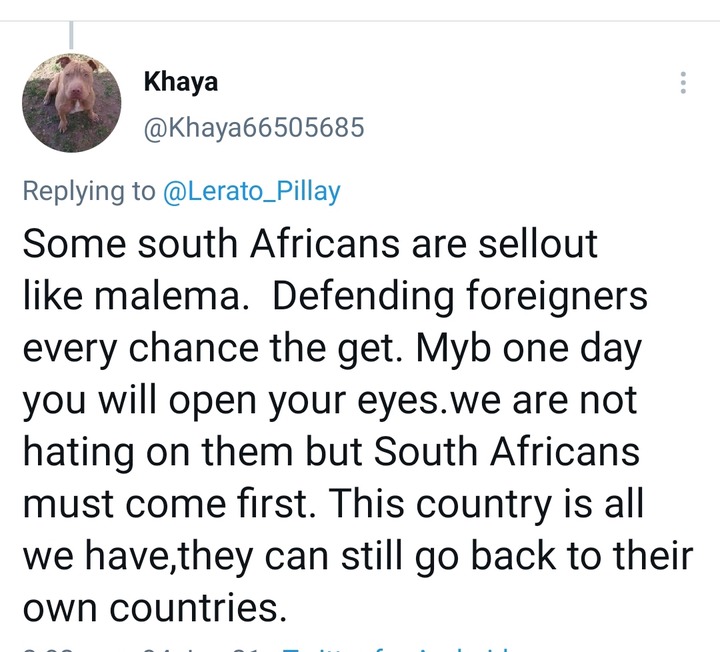 @Neo
Oh yeah! I heard from a source a while ago that were up all night campaigning for to get in. Then she became within and dropped about 80K at Bushiri thanking him and all. Haibo! The source wasn't joking. 🤣.
What can you say to this?