While They Are Busy Funding Boko Haram and IPOB Terrorist Groups, Our Govt Is Working- Onochie
An aide to President Muhammadu Buhari, Lauretta Onochie has once more spoken. Lauretta Onochie is one woman who always speaks out when there is a need for her to do so.
According to a tweet she made earlier today, she made it known that while they are busy sponsoring Boko Haram and IPOB terrorist groups, the government is working.
Going further, she also stated that while criminals are working so hard to end police, while ordinary people are cutting up rail tracks, their government is also working seriously.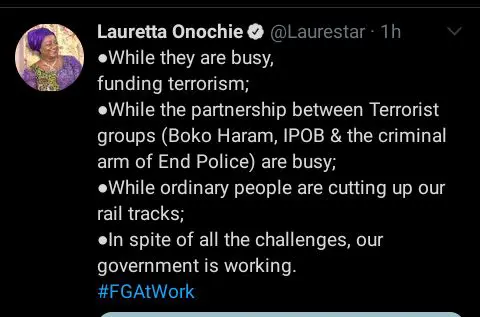 Lauretta Onochie has spoken well, but I don't think that most Nigerians will agree with her. On the other hand, I really don't think that those in government should rate themselves. They should allow the citizens to do that.
This present government still have a lot of things to do. There is much hunger in the land and most Nigerians are not safe. The government must do more to protect Nigerians because life comes first before any other thing.