Man Who Hangs Out With Lions Left For 5 Weeks, See What Happened When He Returned
We all know that lions are wild creatures; it's in their nature. They're predators, large cats, and the kings of the jungle, with razor-sharp claws and enormous teeth that may reach 7 cm in length. Lions are wild creatures, which is why they live in the forest, far away from humans; yet, some people venture into the forest in quest of a lion, either for scientific or other reasons.
In terms of physicality/strength, we as humans are no match for a lion. Lions are nearly 2.5 times the weight of humans and can jump three times farther. Simply by calculation, they have 7.5 times the strength of a person. With this in mind, we should all exercise extreme caution and hope that we never come across one.
However, a few hours earlier, I came across a video in which a man named Dean Schneider said that he had been away from the lions for 5 weeks and that people had frequently questioned if they would remember him, so he released a video of what occurred when he returned.
Dean was able to make such a remark because of his association with these lions. Videos of him caressing lions may be found on his Twitter feed, which is really awesome. When Dean returned, the lions all rushed up to him and hugged him as he caressed them all; unexpected, right?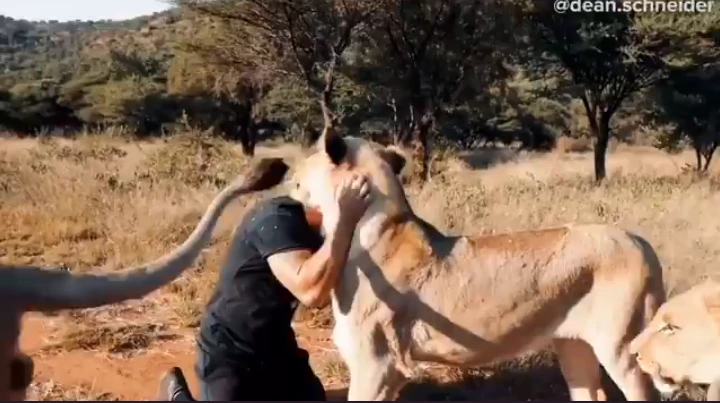 So, what are your thoughts on the subject? How does he manage to hang out with lions without being harmed? Please post your thoughts in the comments section below. Also, don't forget to like, share, and follow me on Twitter for more content like this. Thank you very much.