I Struggled To Make 120K Per Month As A Doctor In Nigeria, Then I Moved To An Arab Country-Man
I Struggled To Make 120K Per Month As A Doctor In Nigeria, Then I Moved To An Arab Country-Man
There have been yearnings from many concerned Nigerian for the Federal Government to revamp the health care system of the country considering the vital role the system is playing in our society. But for many years, the government shows negligence in improving our hospitals to the world standard. This lack of concern from the government combined with poor working condition give room for our most medical doctors to leave the country immediately they finish their MBBS degree.
Thousands of Nigerian medical doctors are working in different countries and they are doing excellently in their respective fields. A young Nigerian doctor has recently narrated his experience after he moved abroad. Taking to his Twitter account yesterday, the young man stated that he struggled to make one twenty thousand Naira (N120,000) per month when he was working in Nigeria. He later made the hard decision of moving to an Arab country in the middle east in search of better working condition.
When he landed in the middle east and breath the fresh air there, he promised not to return to Nigeria again because of the better salary he is receiving there. Check out his post below: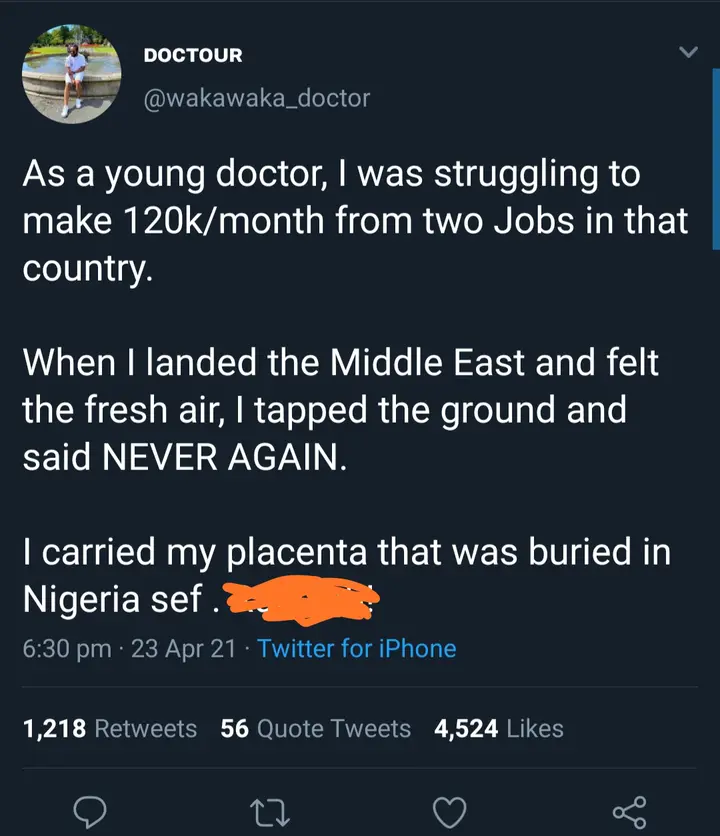 What can you say to this?