I Slept With A Married Man Whose Wife Is A Worker In Our Parish an – Lady Reveals
I Slept With A Married Man Whose Wife Is A Worker In Our Parish an – Lady Reveals
Infidelity is very rampant these days and it can be found in so many parts of the world, there are so many reasons people cheat while in a relationship or marriage but I don't think there will ever be any reason that will justify infidelity.
If you can't stay faithful to just one person why do you have to marry them in the first place? So many people are not even enjoying their marriage anymore because the love that led them to get married is no more.
These days, we see married men cheating with ladies who are single, married women who also cheat with guys who are still bachelors. In fact, some married people go as far as cheating with other people who are also married.
This particular lady seems to be feeing guilty of her deeds, as she revealed how she had an affair with a married man, anonymously. She seems to be thinking it's not worth it as the man couldn't go for long.
Now, she said she is asking God for forgiveness because the said married man has a wife who is a worker in her parish.
See her post in the screenshot below.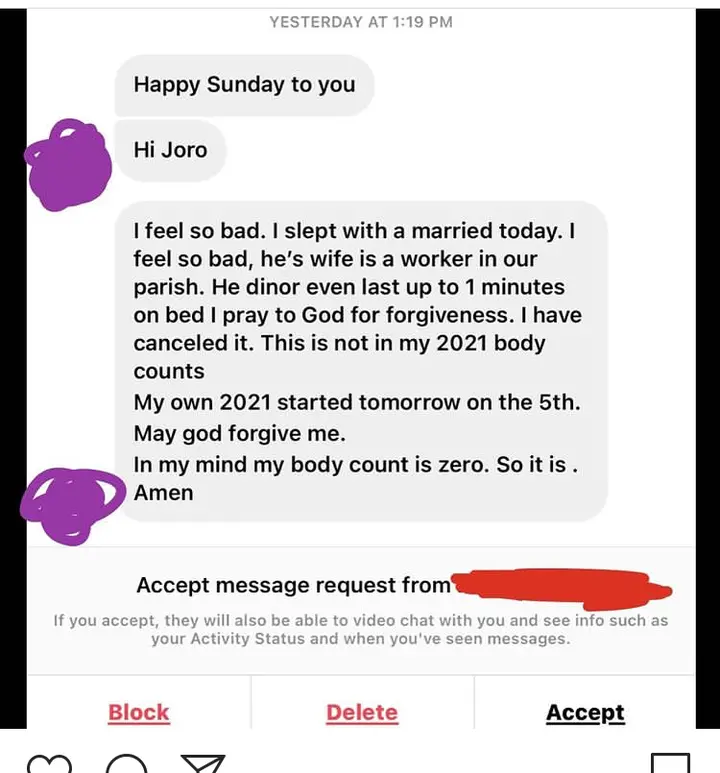 See reactions from people.