Please Don't Read This Story If You're Not Emotionally Strong -Lady Warns
A young beautiful lady identified on Facebook as Eve Onyedikachukwu has taken to her Facebook page to share a touching story of the day she had her primary six examination which is otherwise called common entrance examination. She posted this after she took her boy to the venue of his common entrance examination hours ago.
Many people has really passed through a lots in life and you won't know if they don't open up and tell you. Her story reflects on the special treatments that are given to the kids from rich and wealthy background, the privileges they enjoy as well as the way poor kids are treated. Indeed, money is good and we all should pray to make it in life one day!
Read what she said below;
"I finally dried my tears which wouldn't stop rolling for some hours now, summoned a little courage and strength to share a little story about my past life. (Please pardon the errors if any cos I'm very emotional right now).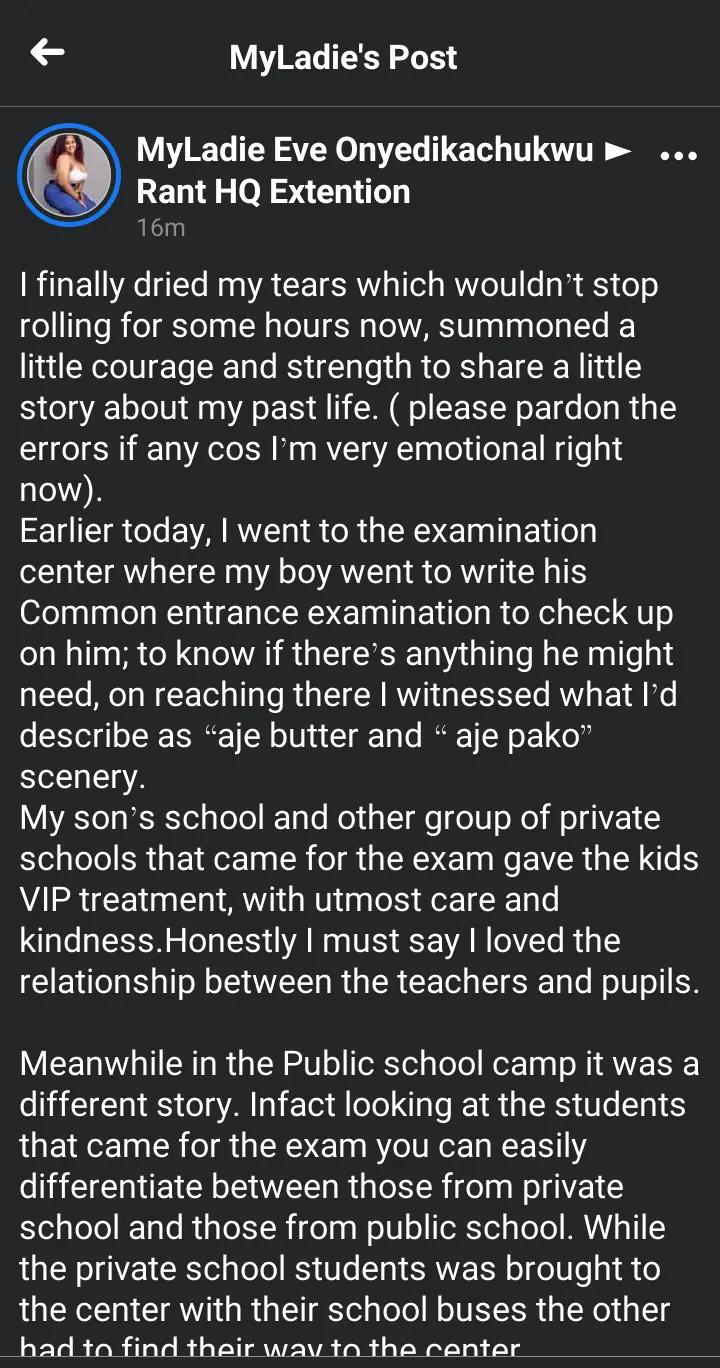 Earlier today, I went to the examination center where my boy went to write his Common entrance examination to check up on him; to know if there's anything he might need, on reaching there I witnessed what I'd describe as "aje butter and "aje pako" scenery. My son's school and other group of private schools that came for the exam gave the kids VIP treatment, with utmost care and kindness. Honestly I must say I loved the relationship between the teachers and pupils. Meanwhile in the Public school camp it was a different story. Infact looking at the students that came for the exam you can easily differentiate between those from private school and those from public school. While the private school students was brought to the center with their school buses the other had to find their way to the center.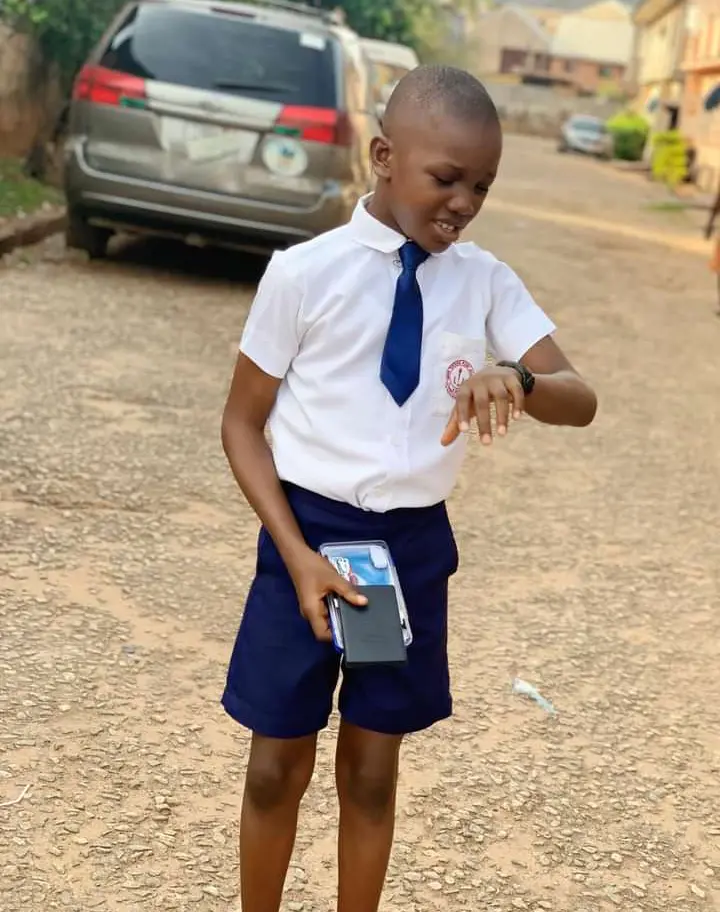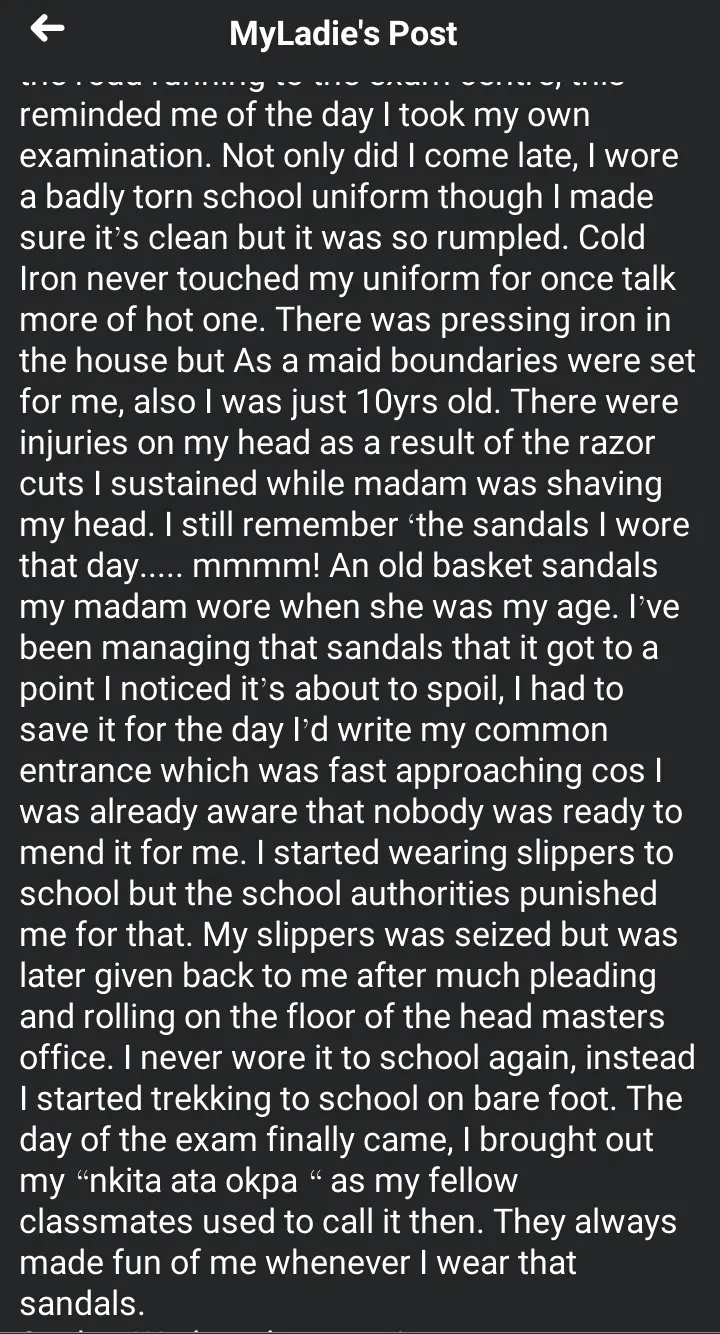 While I was coming, I saw some students on the road running to the exam centre, this reminded me of the day I took my own examination. Not only did I come late, I wore a badly torn school uniform though I made sure it's clean but it was so rumpled. Cold Iron never touched my uniform for once talk more of hot one. There was pressing iron in the house but As a maid boundaries were set for me, also I was just 10yrs old. There were injuries on my head as a result of the razor cuts I sustained while madam was shaving my head. I still remember 'the sandals I wore that day….. mmmm!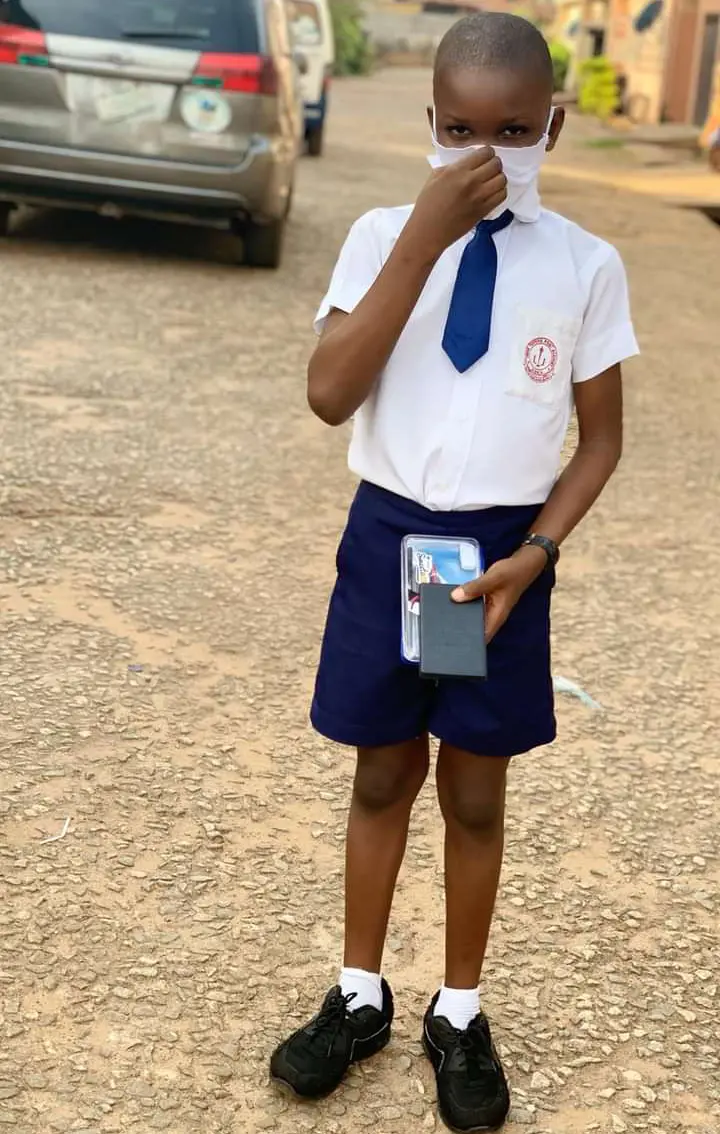 An old basket sandals my madam wore when she was my age. I've been managing that sandals that it got to a point I noticed it's about to spoil, I had to save it for the day I'd write my common entrance which was fast approaching cos I was already aware that nobody was ready to mend it for me. I started wearing slippers to school but the school authorities punished me for that. My slippers was seized but was later given back to me after much pleading and rolling on the floor of the head masters office. I never wore it to school again, instead I started trekking to school on bare foot. The day of the exam finally came, I brought out my "nkita ata okpa " as my fellow classmates used to call it then. They always made fun of me whenever I wear that sandals.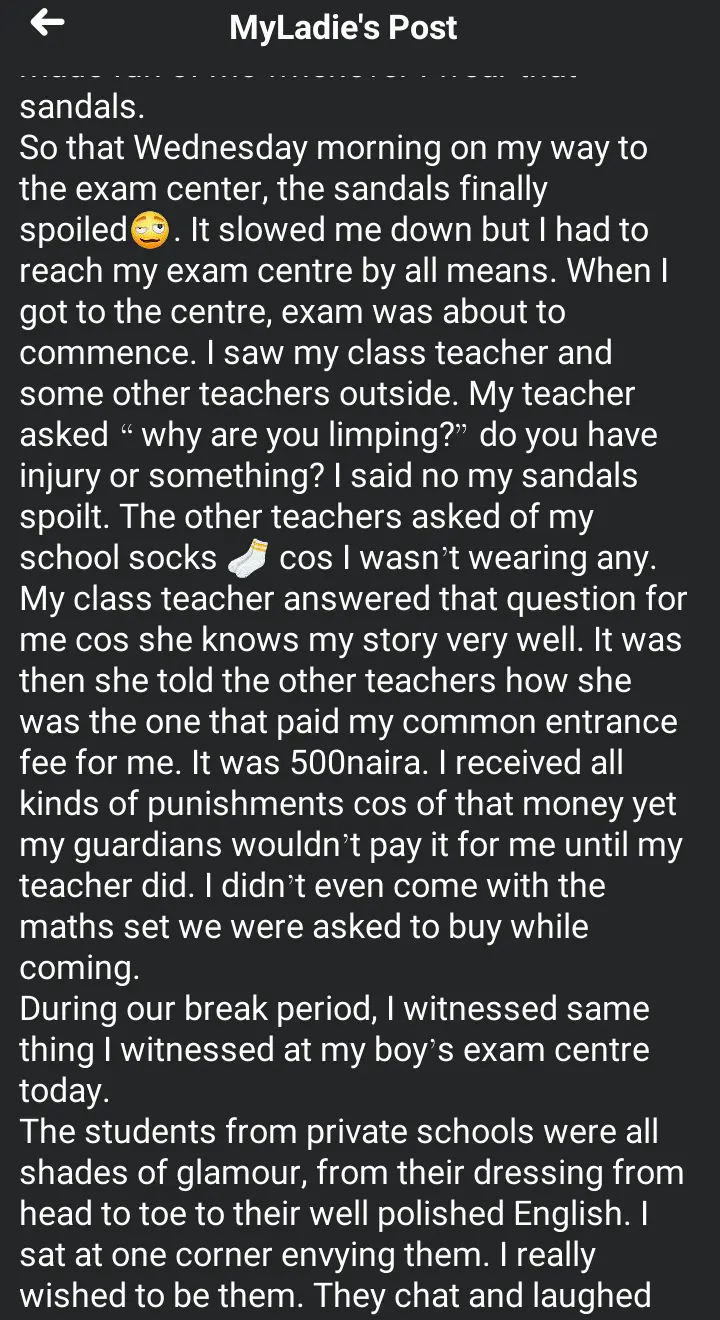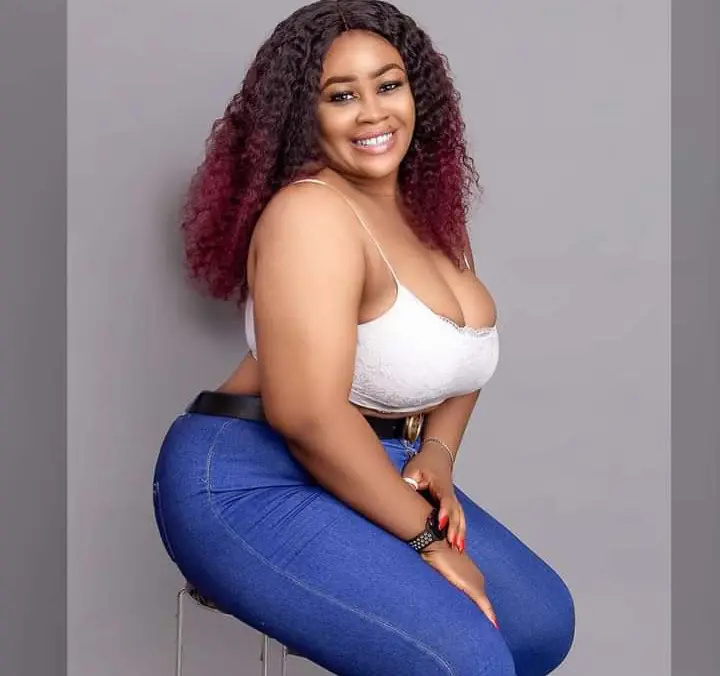 So that Wednesday morning on my way to the exam center, the sandals finally spoiled . It slowed me down but I had to reach my exam centre by all means. When I got to the centre, exam was about to commence. I saw my class teacher and some other teachers outside. My teacher asked "why are you limping?" do you have injury or something? I said no my sandals spoilt. The other teachers asked of my school socks because I wasn't wearing any. My class teacher answered that question for me cos she knows my story very well. It was then she told the other teachers how she was the one that paid my common entrance fee for me. It was 500naira. I received all kinds of punishments cos of that money yet my guardians wouldn't pay it for me until my teacher did. I didn't even come with the maths set we were asked to buy while coming.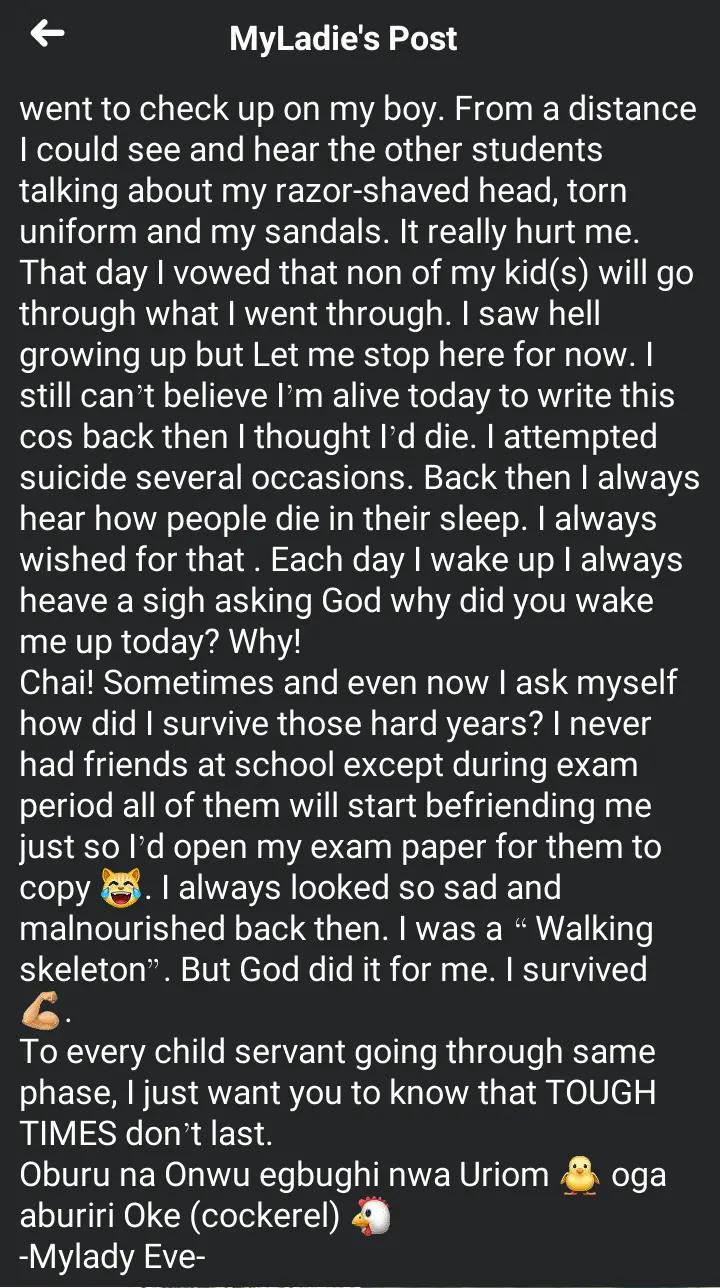 During our break period, I witnessed same thing I witnessed at my boy's exam centre today. The students from private schools were all shades of glamour, from their dressing from head to toe to their well polished English. I sat at one corner envying them. I really wished to be them. They chat and laughed with their teachers freely. I was amazed cos it's never like that in my school. The hunger I experienced that day was terrible, my other classmates came with food, money, snacks. I came with nothing so you now know why I went to check up on my boy. From a distance I could see and hear the other students talking about my razor-shaved head, torn uniform and my sandals. It really hurt me.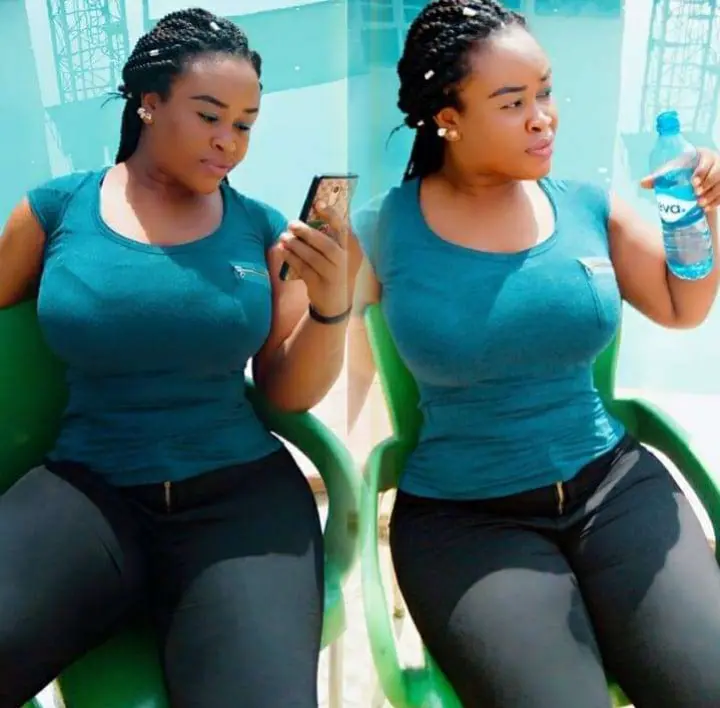 That day I vowed that non of my kid(s) will go through what I went through. I saw hell growing up but Let me stop here for now. I still can't believe I'm alive today to write this cos back then I thought I'd die. I attempted suicide several occasions. Back then I always hear how people die in their sleep. I always wished for that . Each day I wake up I always heave a sigh asking God why did you wake me up today? Why!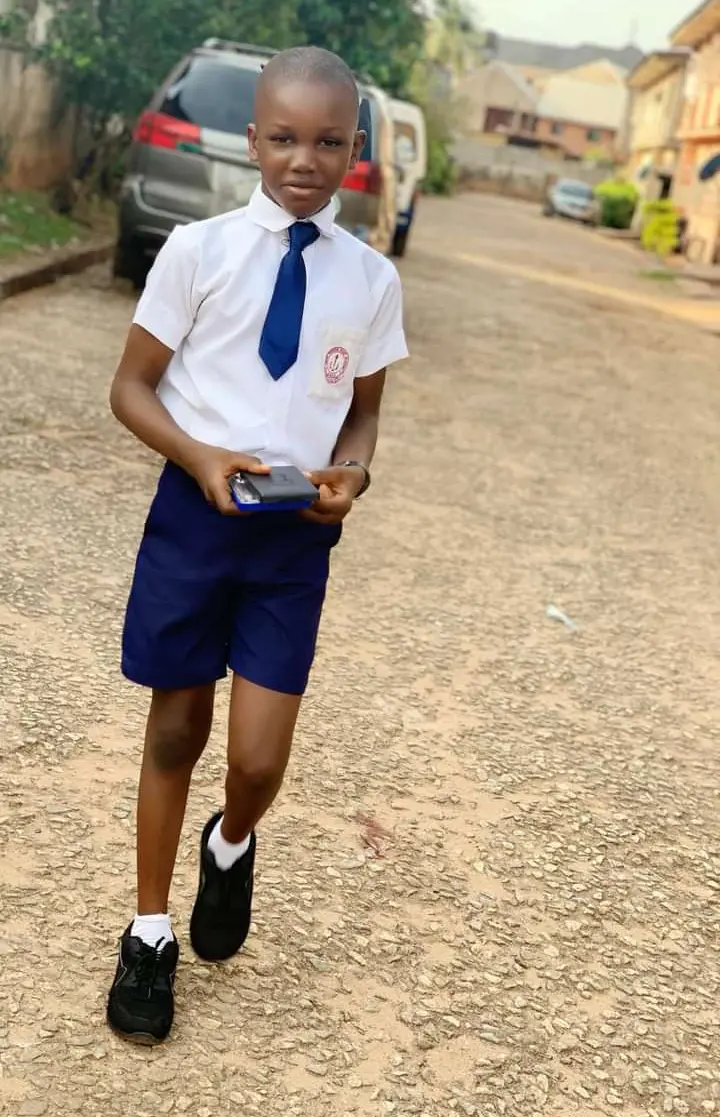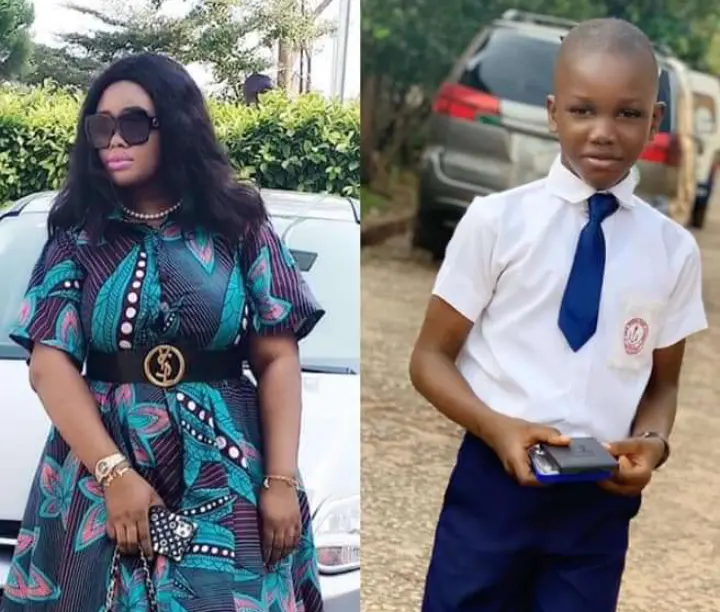 Chai! Sometimes and even now I ask myself how did I survive those hard years? I never had friends at school except during exam period all of them will start befriending me just so I'd open my exam paper for them to copy. I always looked so sad and malnourished back then. I was a "Walking skeleton". But God did it for me. I survived. To every child servant going through same phase, I just want you to know that TOUGH TIMES don't last." She added. What do you learn from the story?