My Landlord Daughter Is Pregnant And She Lies A Lot, I'm Packing Out Before Someone Lie Against Me- Man Says
My Landlord Daughter Is Pregnant And She Lies A Lot, I'm Packing Out Before Someone Lie Against Me- Man says
There are things that may actually be truth in life but said jokingly. Things are really happening around that are hilarious and sometimes seems serious
There are many allegation of pregna. cy been lied upon men who rejected it, they claimed the lady was only lieing on them. Many children have been out of pregnancy controversy. The real truth remain a controversy which only God can justify.
A man Identified as Christopher Charles has made a statement on Facebook which seems to be hilarious, but yet may sometimes happenend In life.
According to him, the daughter of his landlord who loves lieing is pregnant, this will prompt him to quickly packed out from the house before she lied on him. This statement by Christopher is funnily interesting and people begins to ask him why packing out of the house when it's just his landlord that is pregnant, what concern him?. Other people tell him congratulations for the happening in his house.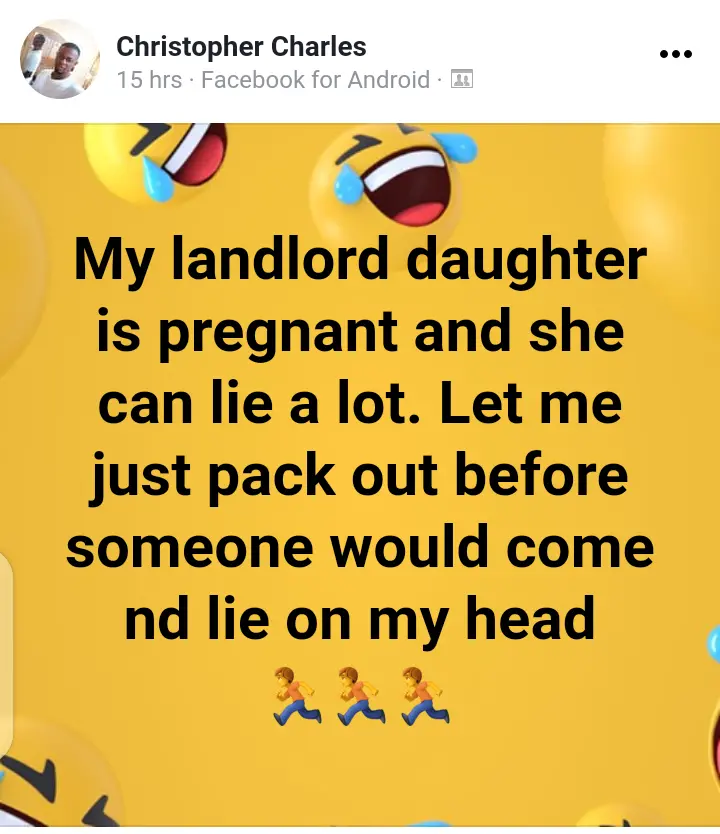 What do you think Christopher was trying to insinuate about this drama. Who likely owns the Pregnancy?.