My Wife Does Not Want To See My Mother In My House Man Reveals, Please What should I Do – Man Seek Advise
My Wife Does Not Want To See My Mother In My House Man Reveals, Please What should I Do – Man Seek Advise
The topic of who should come first in a man's life between his mother and wife has always been a topic of discussion. What this man is currently facing in his marriage is one of the reasons why the topic really needs to be paid more attention to, as it can make a marriage if it is taken care of and also breaks a marriage if it is taken with levity hand. This man shared a problem he is facing in his home and it has gotten a lot of responses from people who shared different point of views from their various perspectives.
The man revealed that his wife does not want to see his mother around his house anymore. He stated that this started after they got married and gave birth to a child. His wife seems not to be interested in seeing his mother anymore.
Although, he didn't state the reason his wife gave, but in the comment section, he made it known that he has not seen the both of them having any issue together and his mother is also a very nice woman and not someone people won't want to be with.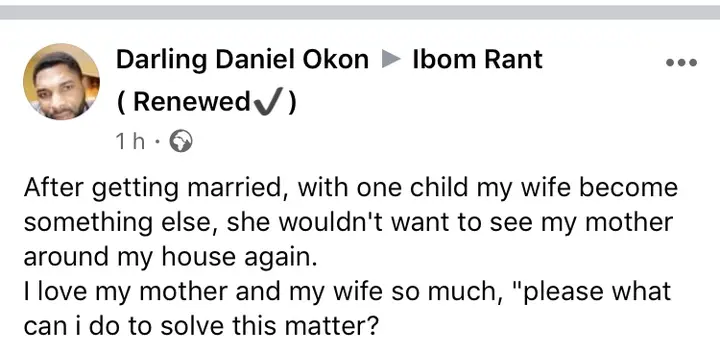 A lot of people have shared their opinions on the issue. While some believe that once a man gets married, his wife should come first before anyone else, some other people believe that no matter the stage a man gets to in his life, his mother will always be the number one priority before any woman. This has stirred up arguments/discussions.
The man seems not to know where to actually turn to as he stated that he loves his wife and mother a lot and what he is trying to say is that the love he has for both of them are equal.
What can you say to this?