As soon as I become the President of Nigeria, a Nigerian will be the President of Ghana -Adamu Garba
As soon as I become the President of Nigeria, a Nigerian will be the President of Ghana -Adamu Garba
Since yesterday that Twitter Chief Executive Officer and Co-founder, Jack Dorsey, chose Ghana as the African operations headquarter, Adamu Garba and Ghanaians have been arguing. The Nigerian politician had earlier told Nigerian to forget the internet mercenaries, adding that Ghana is less than the size of Lagos State.
Just a moment ago, Adamu Garba took to his Twitter account and revealed that a Nigerian would be the president of Ghana, once he becomes the president of Nigeria.
He further stated that Ghana is a motherland county, adding Nigerians have many of their women with more potent Nigerian Men's children.
He wrote:
"As soon as I become the President of Nigeria, a Nigerian will be the President of Ghana. Easier to us because you guys are motherland country, and we have many of your women with more potent Nigerian Men's children. It is in the making. This is as soon as you imagine. Watch out!"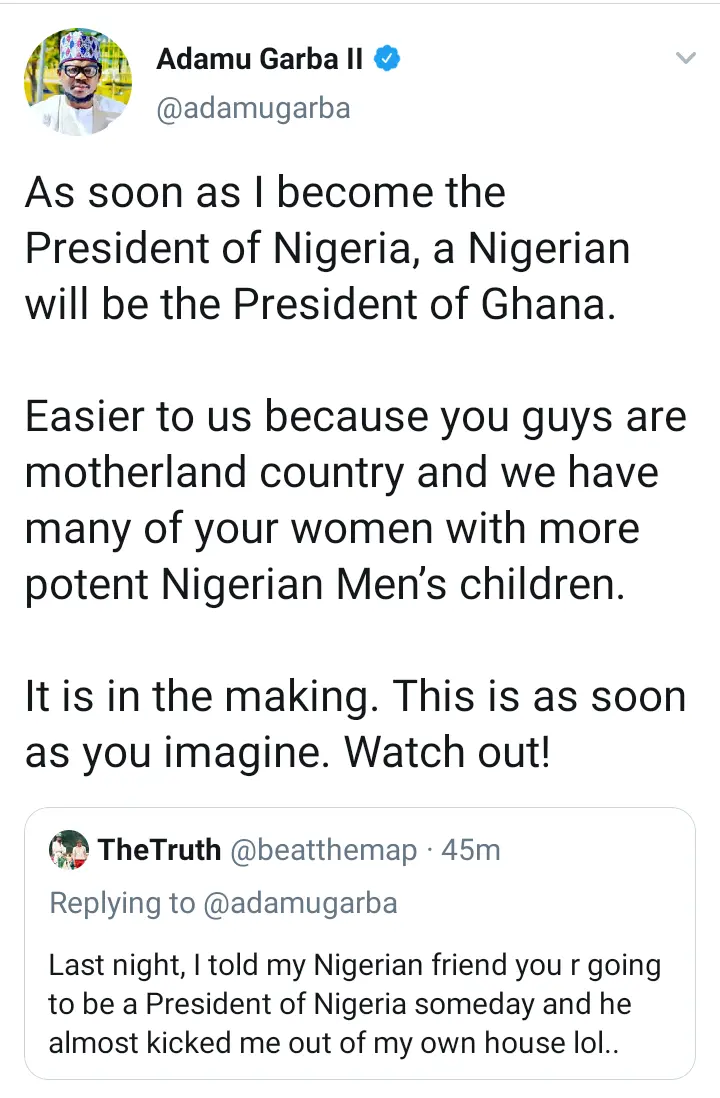 The tweet dropped by Adamu Garba came after a Ghanaian identified as Beathemap revealed what his Nigerian friend did to him last night. Beathemap said he told his friend that Adamu Garba is going to be the president of Nigeria someday. He said immediately he dropped his statement, his friend nearly kicked him out of his house.
Social media users who came across the tweet shared by Adamu Garba reacted to it. See screenshots below.