The Claim By Omooba Reacted To Imam llory That llorin Belongs To Fulani, See What He Said
The Claim By Omooba Reacted To Imam llory That llorin Belongs To Fulani, See What He Said
The issue of Ilorin belongs to Yoruba or Fulani has obviously become seriously controversial among Yorubas, after a particular video by Mudiru Markaz Habeeb Adam Al Ilory made rounds on social media, when he claimed Ilorin belongs to Fulani people. Omooba Oyeyemi, in response to Al Ilory's claim, vehemently disagreed with him on it.
You may recall that some time ago, a popular Islamic cleric in Ilorin, whose video was going viral on the microblogging platforms, after he allegedly said that Ilorin belongs to the Fulani, and mentioned that only few towns within Kwara at that period were made to pay taxes known as isakole from their farming activities to the Alaafin of Oyo.
However, in a recent video by Omooba Oyeyemi, in which, he was vehemently criticizing the Islamic cleric as against his statement that Ilorin belongs to Fulani was being uploaded on YouTube channel by Gbefila TV. In the 16-minute video, Omooba deemed it fit, asking the Islamic cleric some relevant questions about Ilorin.
According to Omooba, everybody should know that the land of Ilorin belongs to the Yorubas, as against the claim by Markaz Al Ilory that Fulani owns it. Omooba said he was surprised by the statement of Ilorin as being propounded by the Islamic cleric that he so respected.
He said that with the esteemed position of Markaz Al Ilory, silence on the issue would have been golden rather than trying to accrue to the Fulani the benefits meant for Yorubaland because of the relationship between him and the Emir of Ilorin. Had it been the revered Islamic cleric, put it in this way that Ilorin people have accepted religion, and as such, they're not part of the plan by Yorubas to secede from Nigeria, this would have been better and accepted.
Omooba was also inquisitive to know what the name of Ilorin connotes? What's the language of Ilorin? He continued that Ilorin has its ancestral source, and there was a reason why the land was called Ilorin. Therefore, he urged the Islamic cleric to come up with any fact to back his claim up.
Meanwhile, he said the Islamic cleric lacks the knowledge of history because he's only knowledgeable about the Quran, unlike the people that gained knowledge in the field of history. Even if he wanted to discuss history, it would only be limited to Saudi Arabia and the messengers of God because it were in those areas the Imam gained his own knowledge.
He further added that nobody claimed that there has been an Oba in Ilorin from the time, but there were Baales at those periods, which he made mentioned of their names. He asked if these Baales were Hausa or Fulani? He also said Shehu Habeeb stated categorically that Alimi trekked down to Ilorin, and how then, would an Islamic cleric claimed that Ilorin belongs to Fulani? He implored the Islamic cleric not to cause crisis in the state, owning to the fact that he has a lot of followers. He also asked him to dissuade from trying to falsify history because it would only bring unnecessary hate on him from the people.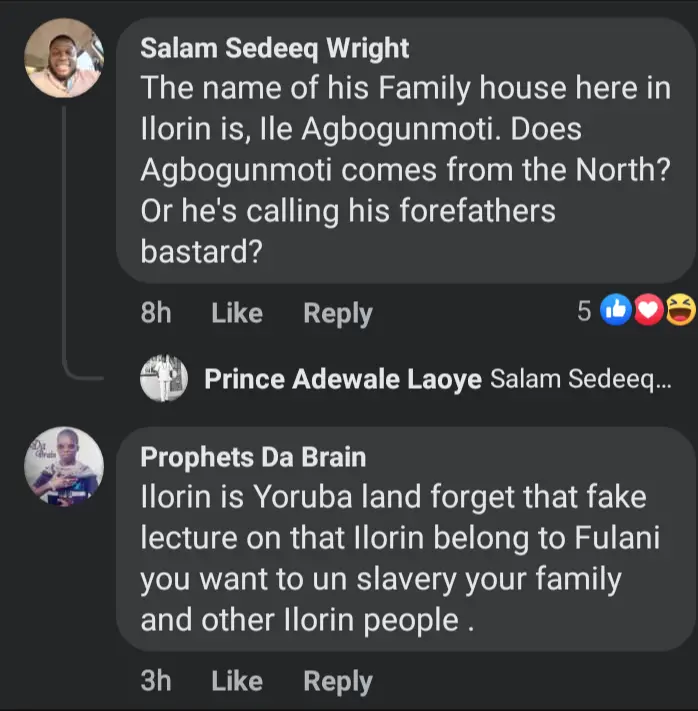 Nevertheless, the video by the Islamic cleric, Markaz Al Ilory, had received days back before the video by Omooba Oyeyemi different criticisms both online and other media outlets, when the Imam made the claim. Among those that criticized the Imam was a young man that dropped a comment, that the Imam only ended up calling his forefathers bastards, owning to the fact that his family house in Ilorin is known as ile Agbogunmoti. Another person emphatically said Ilorin is a Yorubaland, and the Islamic cleric only planned to enslave his family and some Ilorin people.