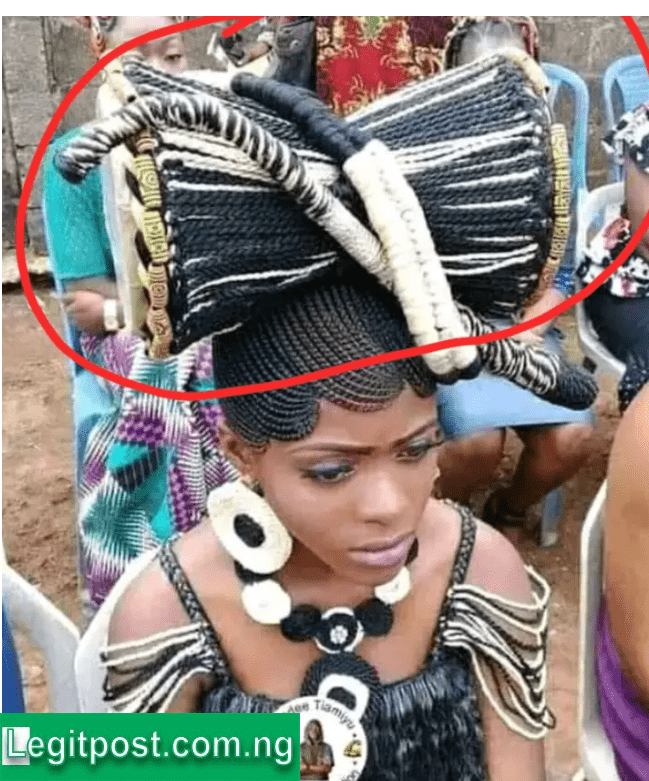 "Who Did This To Her", People Reacts Over The Hairstyle a Lady Posted on Internet
Fashion and Beauty are mostly the main thing that describes, and bring out the level of good looking in a person. The way you fix and combine your Fashion and outfit, will showcase and introduce you to the General public, either as a person who have fashion sense, or as a person who still live in the era of primitive Age. That is why there is a dying which goes like this "Dress the way you want to be addressed". When you dress like a poor person to an event, even if you're well to do with, people will address you as a poor fellow. But when you dress well, no matter your level of buoyancy, people will address you as a rich fellow.
Women are mostly the creation of GOD that describes fashion and Beauty. They are known for wearing good outfits, that in return showcase how elegant and good looking a woman can be. By mare looking at a woman, you will appreciate the good work of GOD and Nature. But some women can be funny at times when they dress to appear in the public.
Talking about how women dress to appear in public, one of things that women look after for is their Hairstyles. The way they come up with different types of hairstyle, personally amaze and baffles me. I keep wondering how they go about it, how they come up with such great ideas. Is it that GOD gives them the ideas and vision in their dreams, or they just wake up in the morning and figure out how to make a new, and captivating hairstyles that will trend all over internet.
I was strolling down the internet this morning, when I came across a particular picture of a hairstyle, that a lady posted on social media called facebook. The hairstyle got my attention, and I decided I will show it to the good people of Ghana through this platform.
According to the story contained in the information gathered by a correspondent, whose name was given as "Humphrey", stated that the unidentified Lady choose to plait the hairstyle, on her traditional marriage day and Post it on internet. Adding that he don't know whether to call it Fashion or madness.
"What are we going to call this one now. See the pictures of the type of hairstyle a Lady plaited, on the day of her traditional marriage. She then decided to post it on social media to get people's reactions. Should we call this one Fashion or madness?", Humphrey said
Furthermore, according to the story reported by "Humphrey", a lot Ghanaians took to the Post to reacts over the pictures of the hairstyle. Where some where like "Who Did this to Her", but others applauded the hairstylist that showcased such amazing talent and skill.
Below are reactions of many Ghanaians over the hairstyle.
Personally I will say that this is pure creativity. The hairstylist behind these type of hairstyle, should be given an award. She deserves some accolades indeed.
Now as a Lady, can you fix this type of hairstyle on the day of your traditional marriage? And as a Man, can you allow your woman to fix these type of hairstyle?