Our Father Told Us he is Our Hero! Nigerian reacted after UK Parliament Member Reveals that Gowo Carted away with Half Of CBN Money to UK
It already trending on the social media especially Twitter how the former head of state Gen. Yakubu Gowon Carted away Half Of CBN Money to London During his regime and after his death he was being Praise and hailed by Nigerians as their Hero.
The UK Parliament Member who was speaking to the house Reveals that Gowo almost looted all Nigeria money to London while he was still ruling and now most Nigerians Government are still Following his steps by looting money illegally and deposit it in UK Bank to prevent notice.
@Somoto
A UK Parliament Member Exposed How Nigeria Former Head Of State, General Yakubu Gowon, During His Time, Stole HALF OF CBN (Billions) And Ran To The UK. He Also Mentioned That Many Corrupt Nigerian Leaders Are Currently Living In The UK With Stolen Funds From Nigeria Treasury.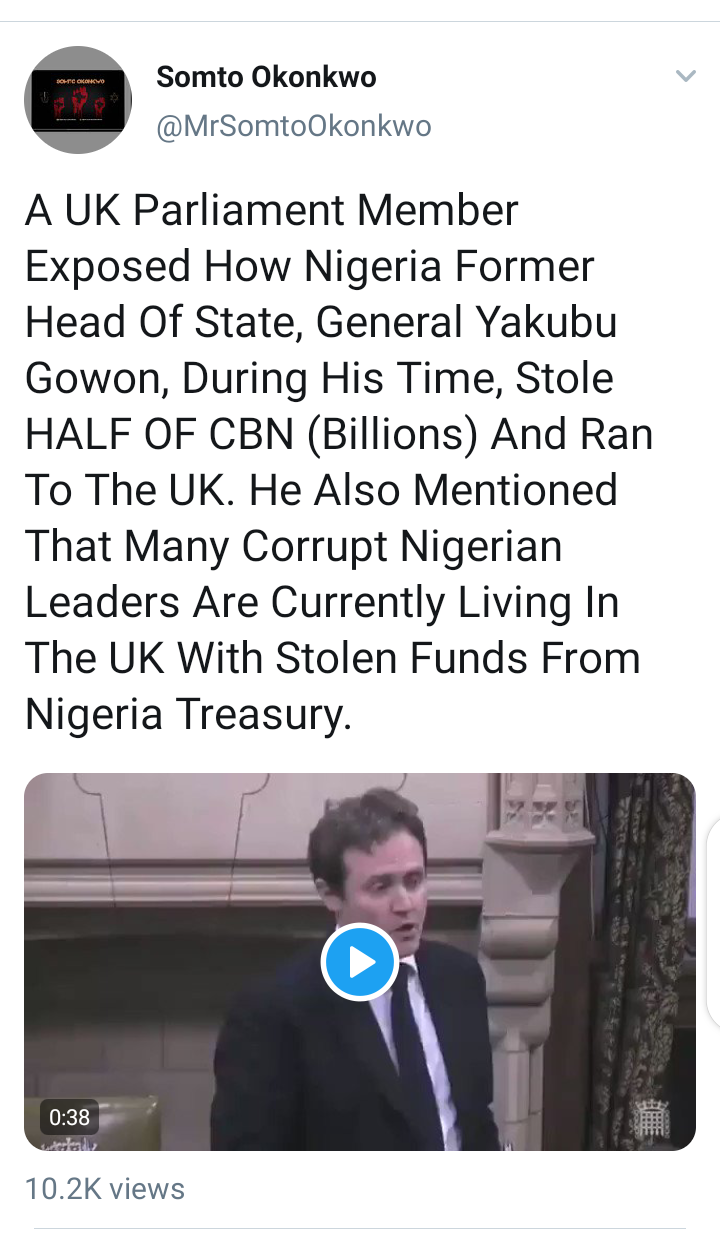 Click Here to Watch Video
However, his statement Resulted to a great controversies among Nigerians on Twitter as they all were devastated knowing that the man who they Praise as hero looted Nigeria money unkownly to any Nigerian.
@OurFav
A govt official in UK Parliament just stated today in their session that they all know that Yakubu Gowon stole half the central bank of Nigeria and took it to London.
These are the clowns we were taught in schools to see as "heroes".
Thieves. Rogues.
The actual real hoodlums.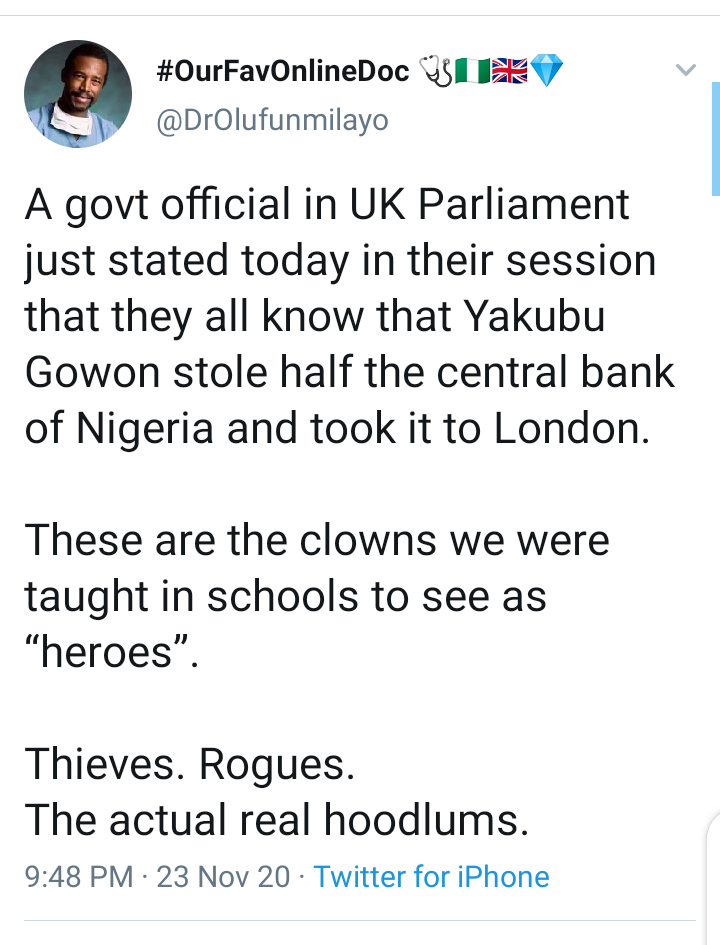 @Attah
If Nigerian historians could sell this same Gowon that the UK parliament just exposed for looting half of CBN to us as a hero, I could only imagine how much they've twisted the civil war story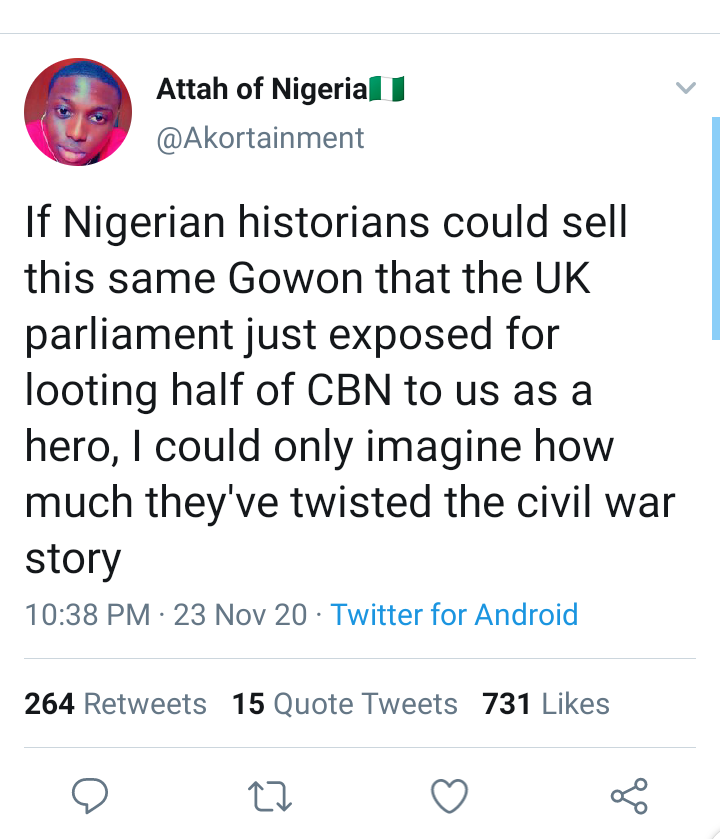 @bassit
In the 70s our parents praised you sir, fast forward to 2020 your true story has just been told. Gowon ògárá olósà, #Endsars https://t.co/sZXkn4KHLf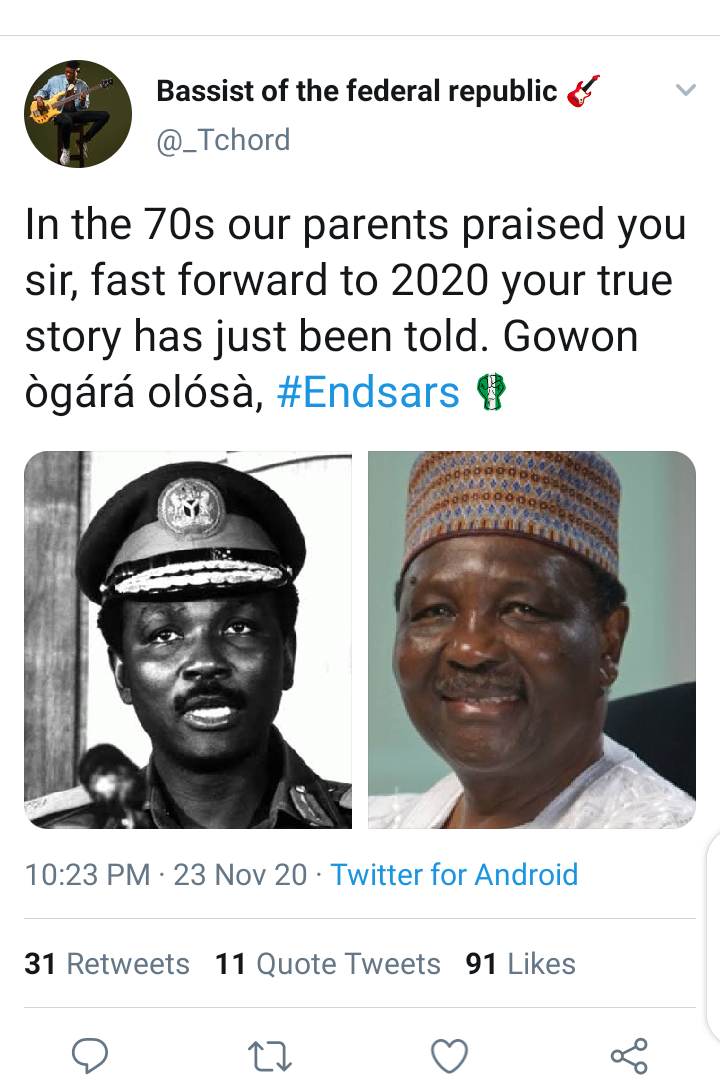 You can see the above comments from Nigerians who were left in a statement of bewilderment, that the man who was called Hero by their father and they pass the Story to them looted half of Nigeria money to London.
This is really painful to believe.