Ladies, Before You date Any man, Ask him for his Debit Card and Pin- Lady Advise her fellow Ladies
Relationship supposed to be a thing of help whereby both parties benefit from Each others not one side benefiting materials while the other is getting stranded.
Relationship this days is based on materials things once a man is not having millionaire of money his account hardly will such person get love by a lady because girls of nowadays are looking for already made man to enjoy his money without having the intention of hustling with him.
Also Read: Small Boys go Knack You tire Come Give You 9k For Hair, Having a Sugar daddy is better – Nigerian Lady Cry Out
However, a lady has dropped a bombshell statements on Twitter regarding the demand of a lady Before she will accept to date any man else she should not think of dating Such a person.
According to her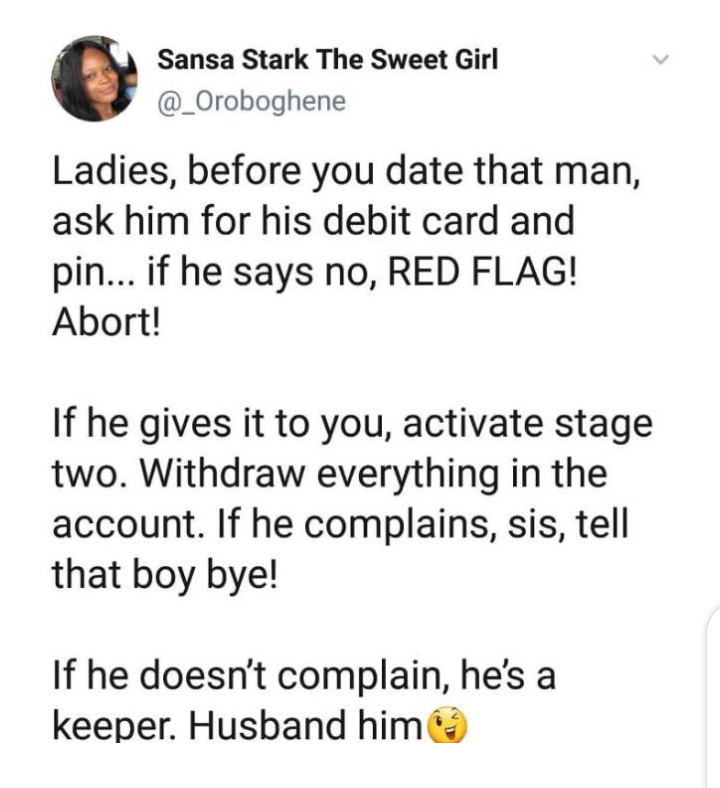 Pay Attention: This Lady Should Be Arrested- See What A Lady Was Spotted Doing That Got Many People Talking
She even added that if the man did not agree to her terms she should immediately say bye bye to him because he is not the rightful one for her.
Pay Attention: "I might be 19years old but my Toto is 2 times your father's Age" – Slay Queen Says (video)
As a man can you do this can of a thing?