My Boyfriend Cheated on me, as a Pay Back,I Did this Horrible thing to Him- Lady Cry Out
Beautiful Lady has set the social media on fire with her revelation on how she pay Back the Evil her beloved Boyfriend did to her and she couldn't help it then getting back at him .
But what she did was really horrible, her actions in her boyfriend Resulted to the end of his career, and if care is not taken the boy might Commit end his life because of what the lady did to her .
A lady identified as iiit_subu on twitter narrated how she paid her boyfriend back in his own coin for cheating on her.
According to her narration on Twitter, the lady said her boyfriend cheated on her and it was so painful, in order to clear off the depression from her heart she decided to retaliate back and she had an affair with his boss.
Not only did she had an affair with his Boyfriend boss she allegedly told the man to fire his Boyfriend from working on his company and the man did.
All this she did just to pay back what her boyfriend did to him.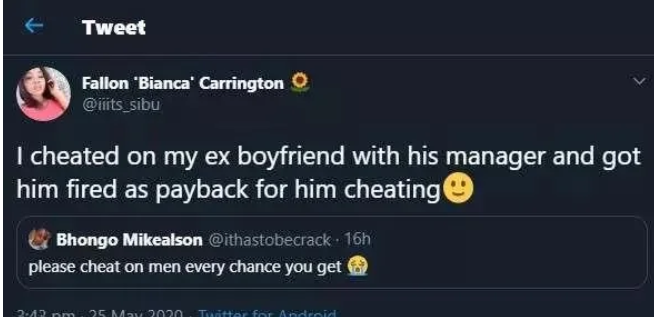 What can you say to this?