I will Never date South African Men Again, After Dating Nigerian Men- South Africa Lady Cry Out
Beautiful South Africa lady has taken to her Twitter account announcing to south Africans how she has dated south Africans and Nigerians men and she found out that Nigeria men are The Best Compare to south African men, because they give her peace of mind and what ever she want.
The south Africa lady also added that, she now addicted to Nigerians way of life that she can Leave them anymore and it is hard for her to date South Africa men again.
According to her
I'm in a relationship with a South African man…that's a real transition considering that I've only been dating Nigerian men.
It's hard, man…
He loves me so much, gives me peace, does everything for me, everything is perfect but I'm struggling to transition…help❤️💔
Last night he took me out to this place. The bouncers were Nigerian. Most of the men were Nigerian.
I was close to asking him to pick me up later. Instead I asked if we could leave…because I know if one Nigerian man showed interest, I was going to slip up.💔
I've grown too deeply involved with Nigerians❤️ I've become accustomed to them, I've become accustomed to their traditions. It's hard to unlearn what Nigeria has taught me & how Nigeria has moulded me to be this diverse woman❤️
Even my Nigerian sisterhood is a DEEP part of me❤️
Below are some reactions by south Africans on Twitter;
@Max
Lady, I'll be frank with you. Stop messing with every part of your womanhood. Start thinking/behaving like a reserved woman. No guy loves a weak/uncontrollable woman who got no self control. You need to see beyond what your eyes feed you.
You got only one body, be nice to it 👍🏽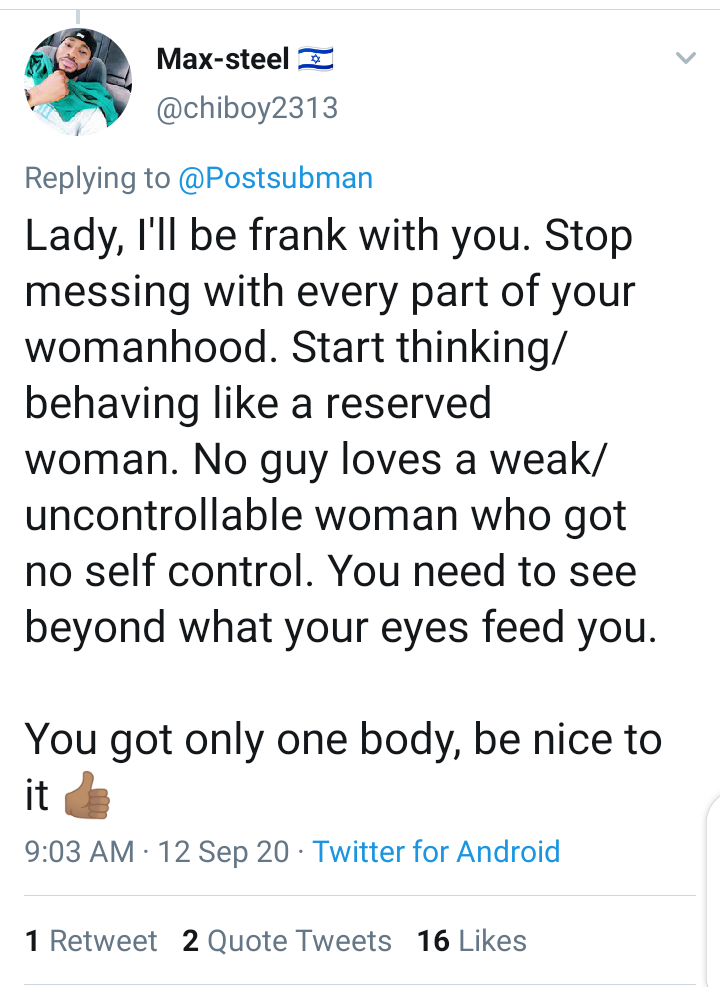 @Atomic
I have been dating Nigerian men,but I don't understand all the molding she is talking about, you are dating someone who gives you peace of mind and every other thing but just coz he is not Nigerian it is hard ,you are not telling the whole truth 😁😁 but i understand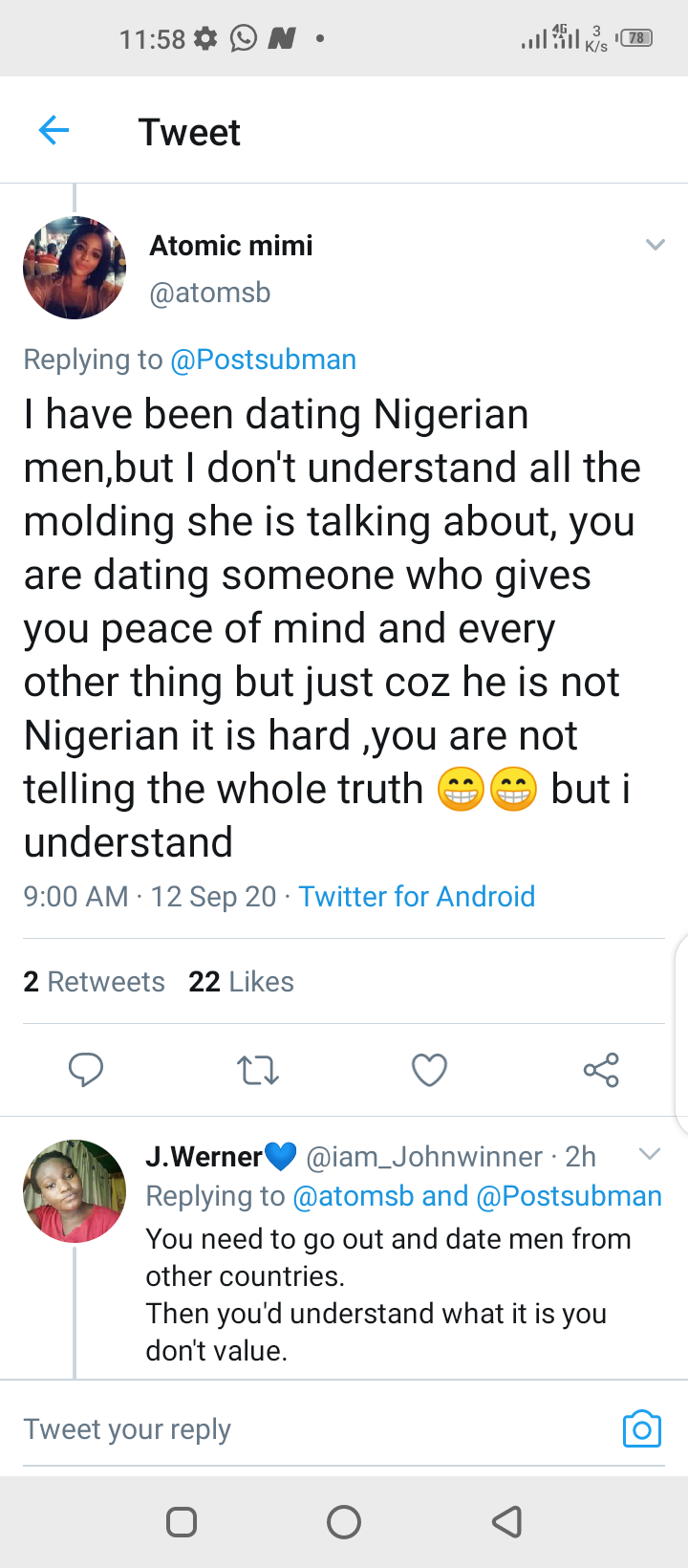 @francoi
And why didn't you stick to 1 Nigerian man considering you've been dating Nigerian men? If your current man gives you peace of mind and loves you genuinely, you better glue there than be eyeing temporary pleasures.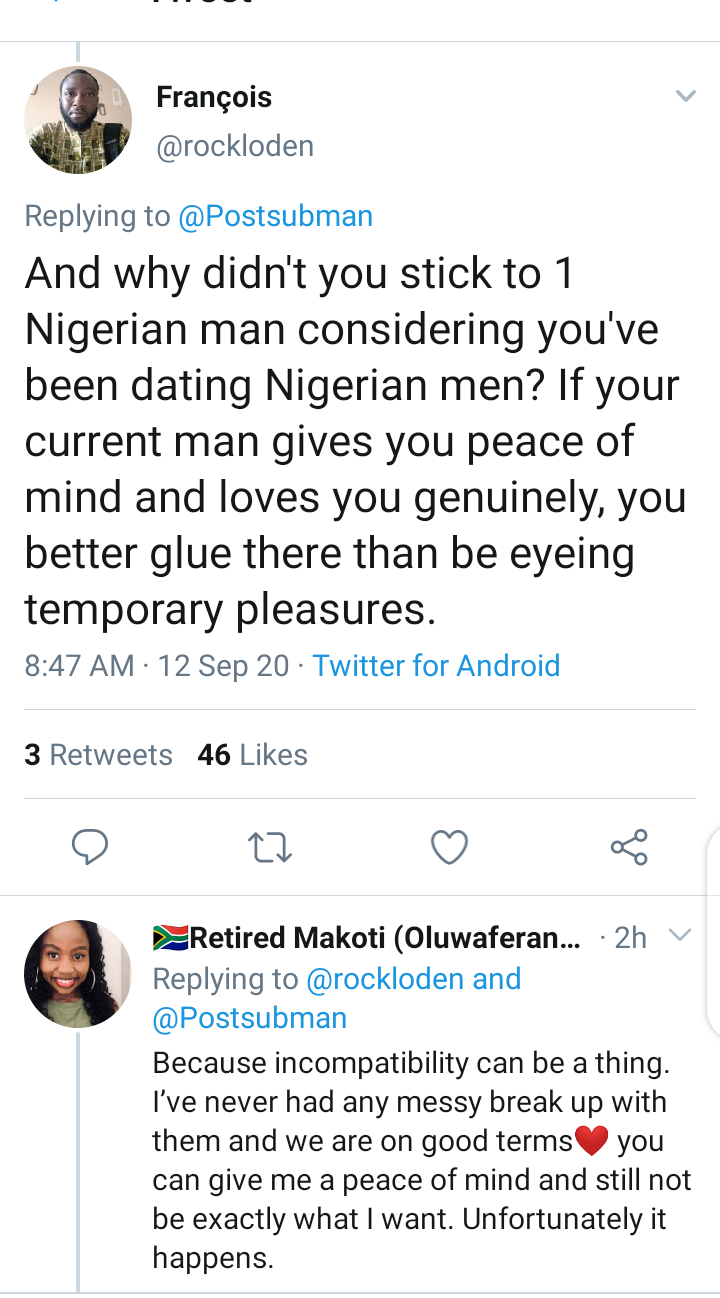 @chijioke
She's not lying at all. Some Nigerian men are really caring but our sisters here don't normally believe it.
Sometimes I feel when a Nigerian woman sees a caring man, they believe it's too good to be true (1st hand experience). So they start misbehaving.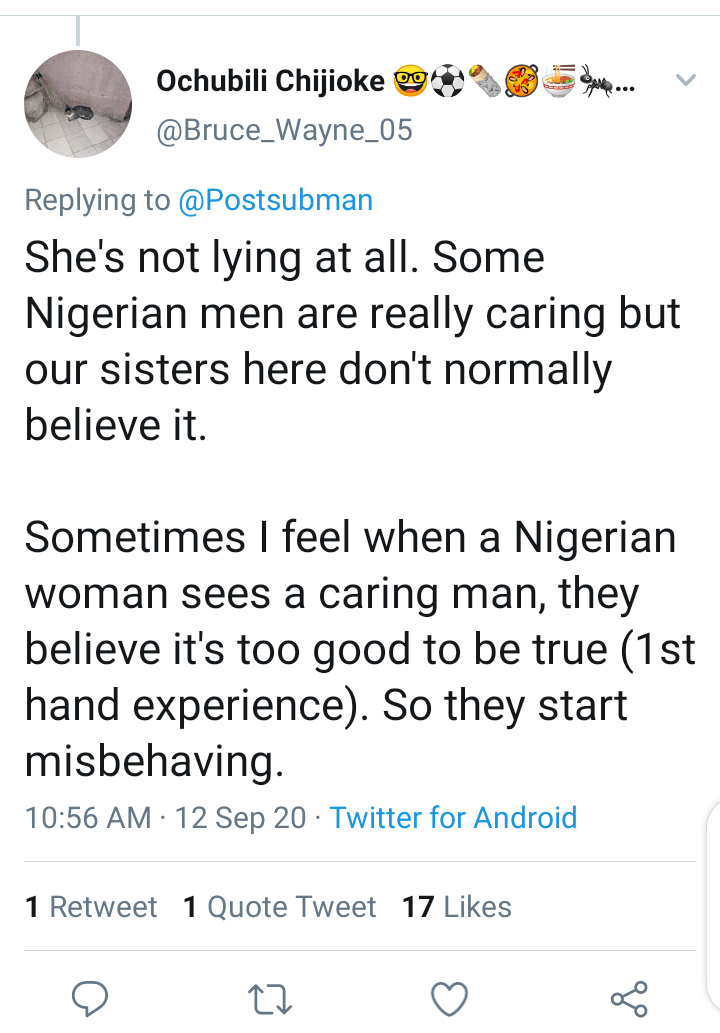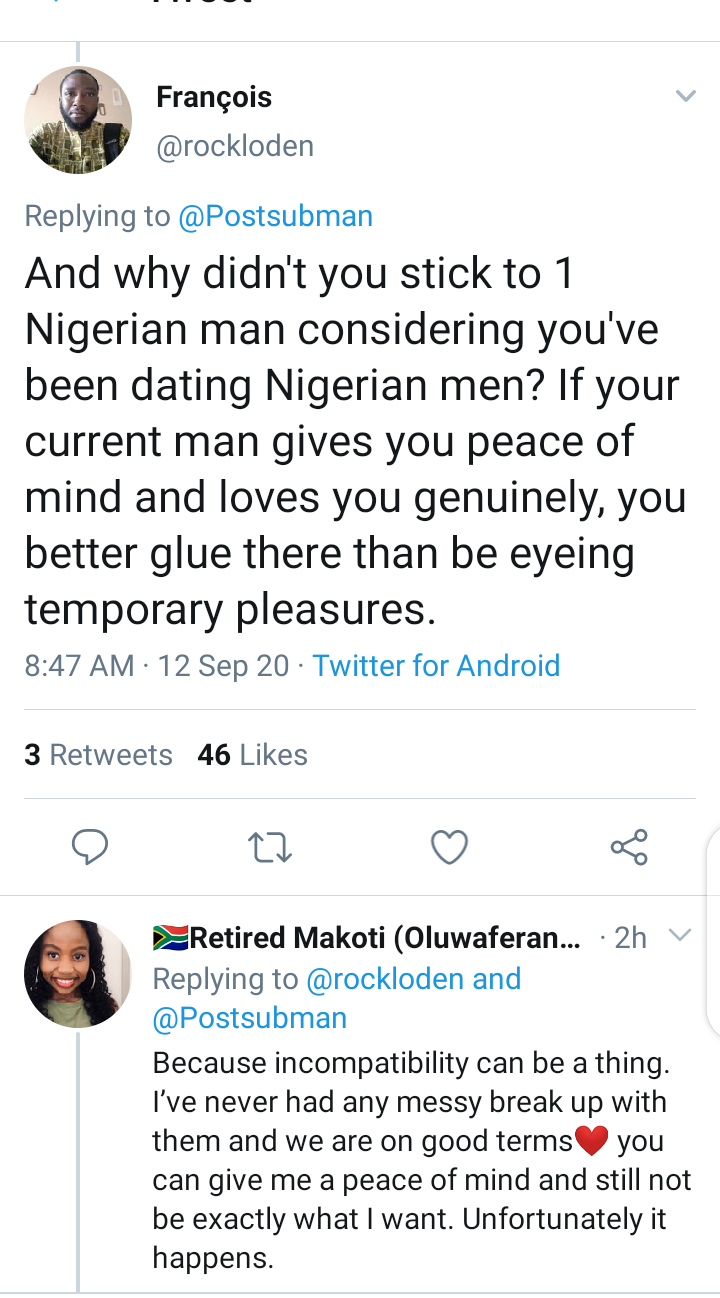 @hh
You are very sincere, all you need is to try as much as possible and make a clean break away from this nice guy, because you will definitely follow your heart on a good day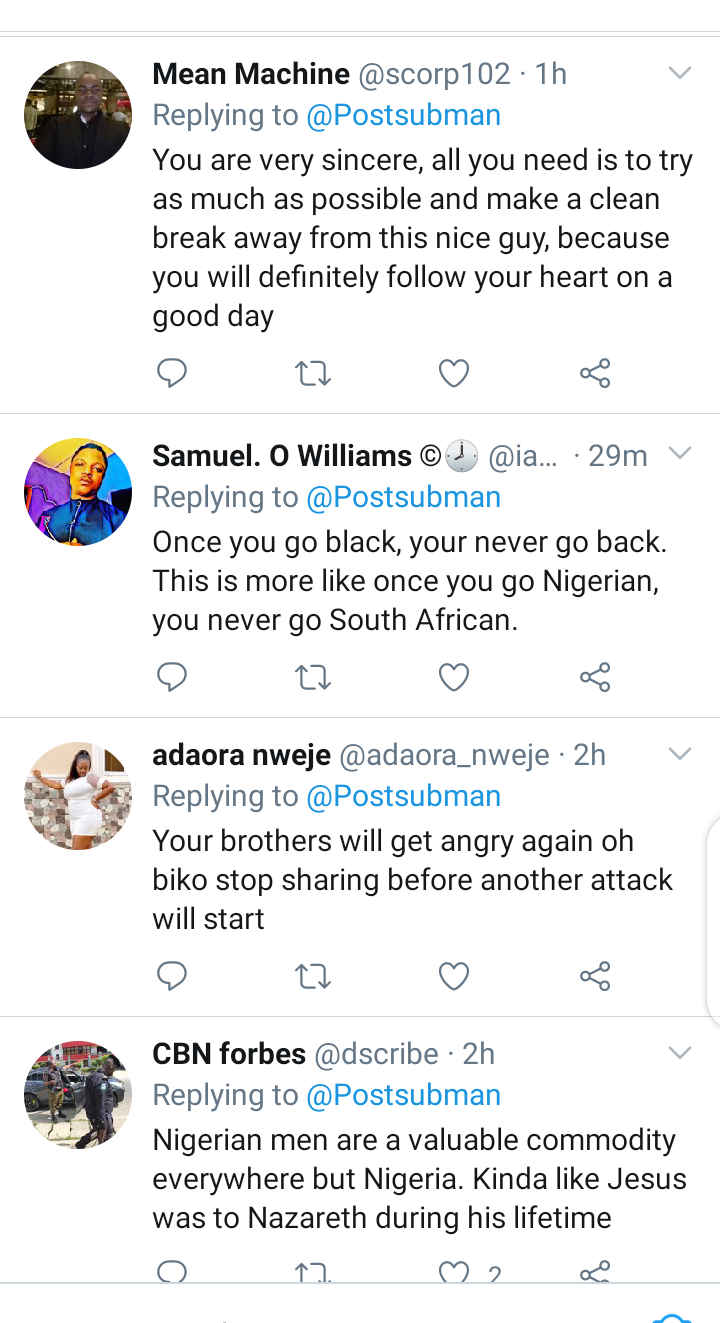 @onoja
As much as it feels good to hear words like this on Nigerians,you need to focus on this line, "He gives me peace". When you find or are in a good position in life, be careful what you wish for.This is an individuality issue. Focus on the content and keep the nationality aside.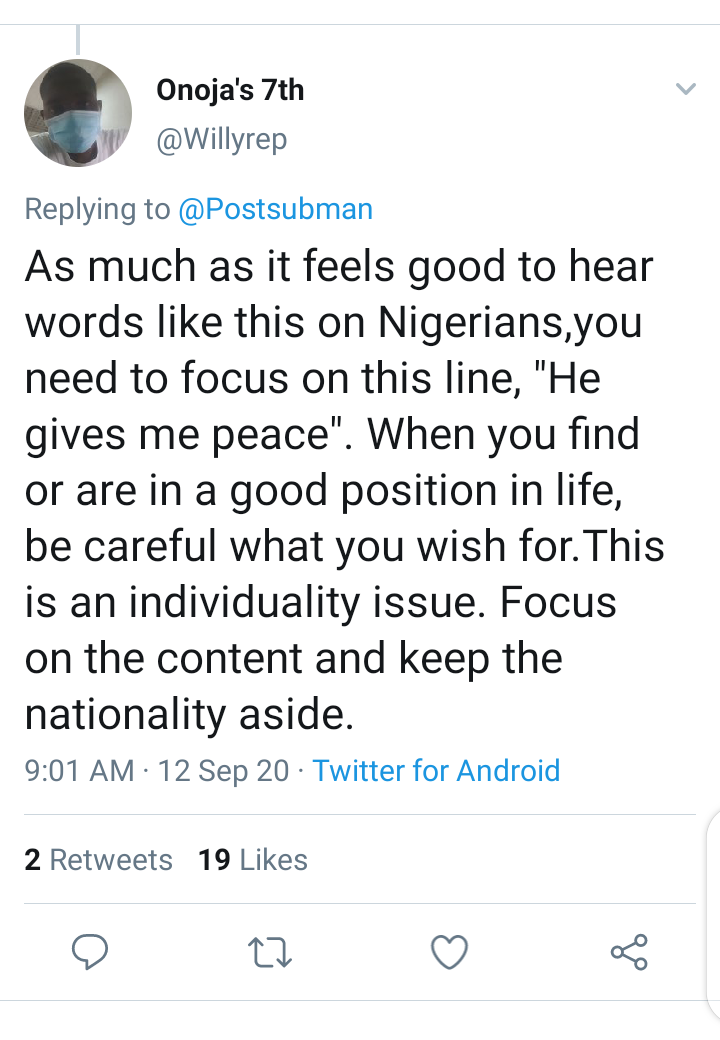 @Arphy
Nigerian men can be romantic if they find someone who appreciates them. Nigerian girls don't rate Nigerian men. But go outside and see how other girls rate us 🙂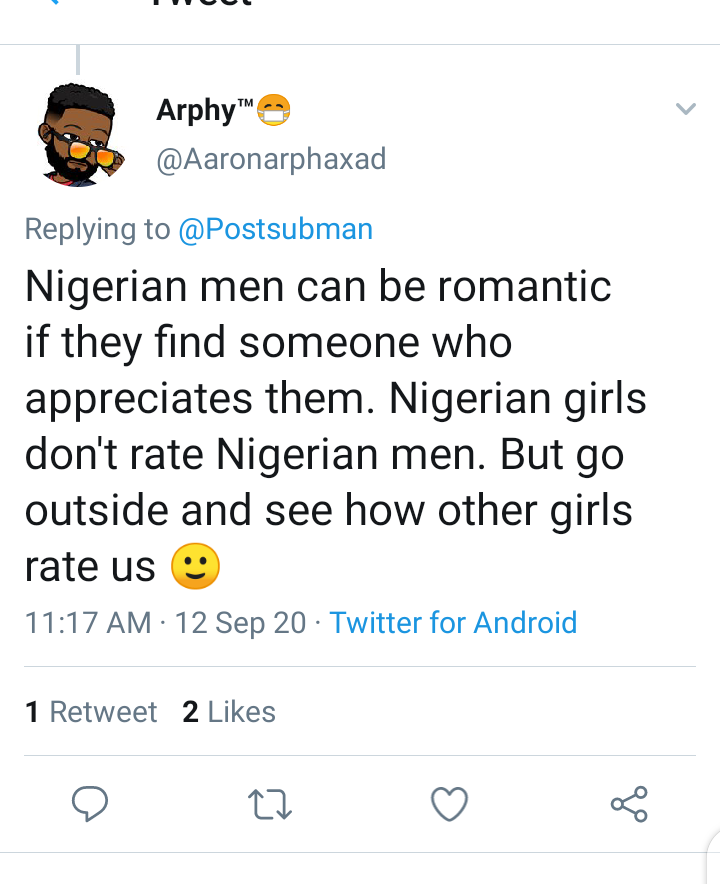 What can you say to this?