Male South African Beggar almost got eaten alive by ants while begging, Until Bi Phakathi Helped Him (video)
A South Africa homeless beggars got overwhelming favour from a good Samaritan who spotted him beggars by the way side and he helped him.
According to the report, the south Africa man is said to have been lame having no means of livehood except begging, he was setting by the way side during a hot weather and he was almost eaten alive by dangerous 🐜 ants while hoping to get money from People passing by, and a man name Bi- Phakathi Saw him, gave him money after some friendly interrogations and also with wheels Chairs to enable him move Property.
However, the south Africa man named Bi Phakathi is popular know around South Africa for his generosity towards people who has nothing, and he always assisting people irrespective of their nationality.
Below are some reactions by social media users;
@Robyn
Bi you are amazing. I recently had to use a wheelchair and I realised the large wheel ones allows for the user to be able to wheel themselves. I also look after a young man like this dear soul. He uses a wheelchair which he can push as well as us. It has large wheels. Just a thought if you have an opportunity to buy someone a wheelchair again. I hope you don't mind me sharing this information. Thank you for all you do. God bless you and your team. 🙏
@debby
If I could pick up this man and help him I would! In a world that we live in, to see a man in this situation, no wheelchair, all alone 😱😩 breaks my heart. The government should be helping all disabled people with wheelchairs, mobility scooters walking sticks etc. Surely to goodness give this man back his life. Give him joy by mobilising him. Please help this man. Please someone get him a mobility scooter to put some Hope in his life. Seeing sad people is crushing.
@Nasa
God bless you for all you are doing. Wish I could do more. Trying to share what we have but I see so many poor souls out there, it's making me cry and wonder why we let this all happen! It shouldn't be like this! It doesn't have to be like this! I am devastated 😞
@andrie
Mr Phakhathi should establish fund where we can appreciate the good work work he is doing to the poor. He don't discriminate a person becsuse of his skin colour or nationality. He understand that hunger does not look at the colour of a person. Lets support this vision.
@meyer
You inspired me to help others and on several occasions have paid for someone's groceries while standing in line at the grocery store especially when I get that feeling that they need a little help. Thank you for your inspiration
@melane
Bless you for all you do BI I don't like to see any living creature suffer 😢 please check on the dog in the back ground I'm not sure if it's in pain or has 3 legs. The world is a better place with people like you God bless you 😇😇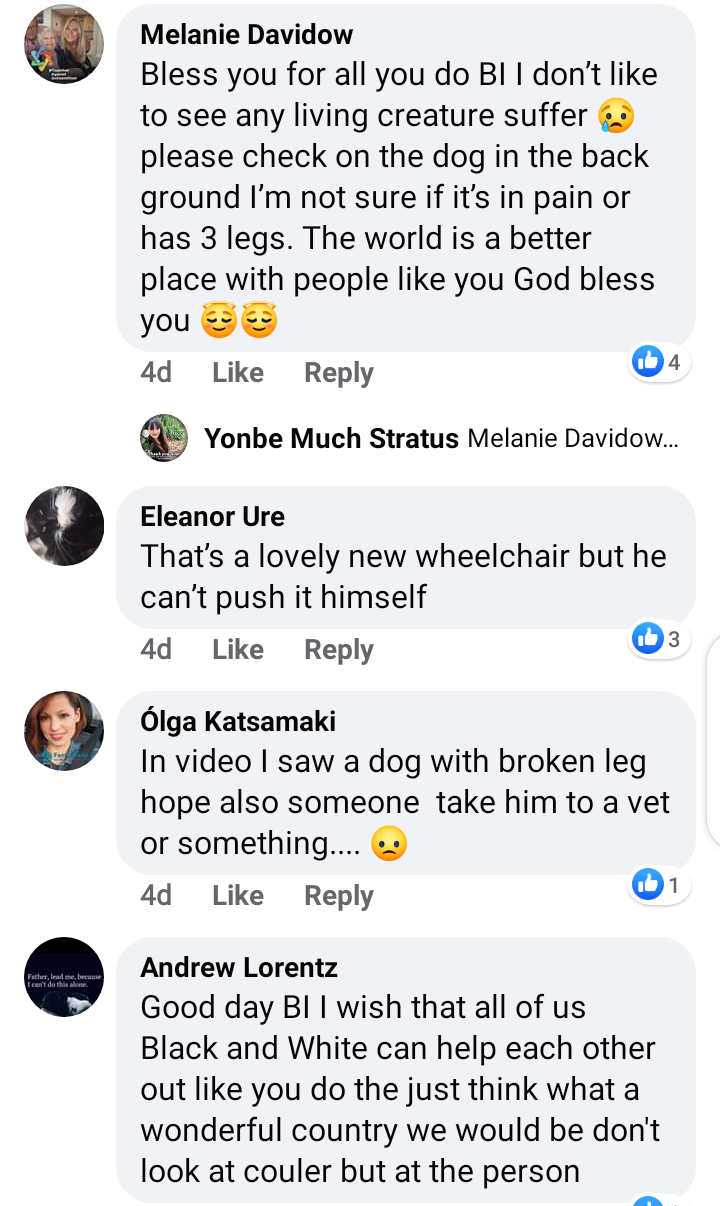 @botha
God please i bring you this man to you tonight and ask look that you will heal him father you healed the pralazied so father in my heart i believe your word will and that your word is faith strengh I ask this for my brother who is in a wheelchair as well amen
@Cindy
Mr. Phakathi once again you're video and acts of unconditional love has blessed me and also made me aware of the unseen pain our world is in. We sing in church: "Open the eyes of my heart Lord break my heart for what break Yours." This is a very strong prayer. I can see the Holy Spirit leading you where you are needed. I can see your heart breaking for God's creation. Love they neighbors as you love yourself. Is that not God's word! You are a testimony to me without words, but with your works of love, acceptance and compassion. The fruits you show are those of the Holy Spirit and that is wat we all aspire to. . I would love to hear your story one day. How you got saved and how God put you on this path. Until then I Wil rejoice and pray for you and the people whose lives you are changing. Be blessed in Jesus name.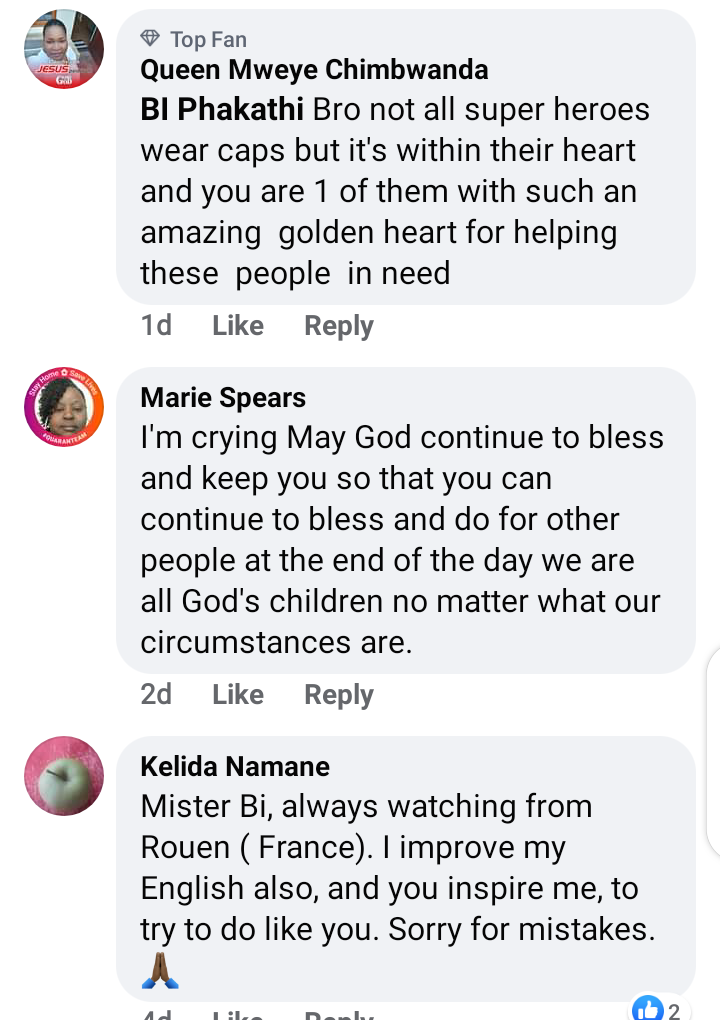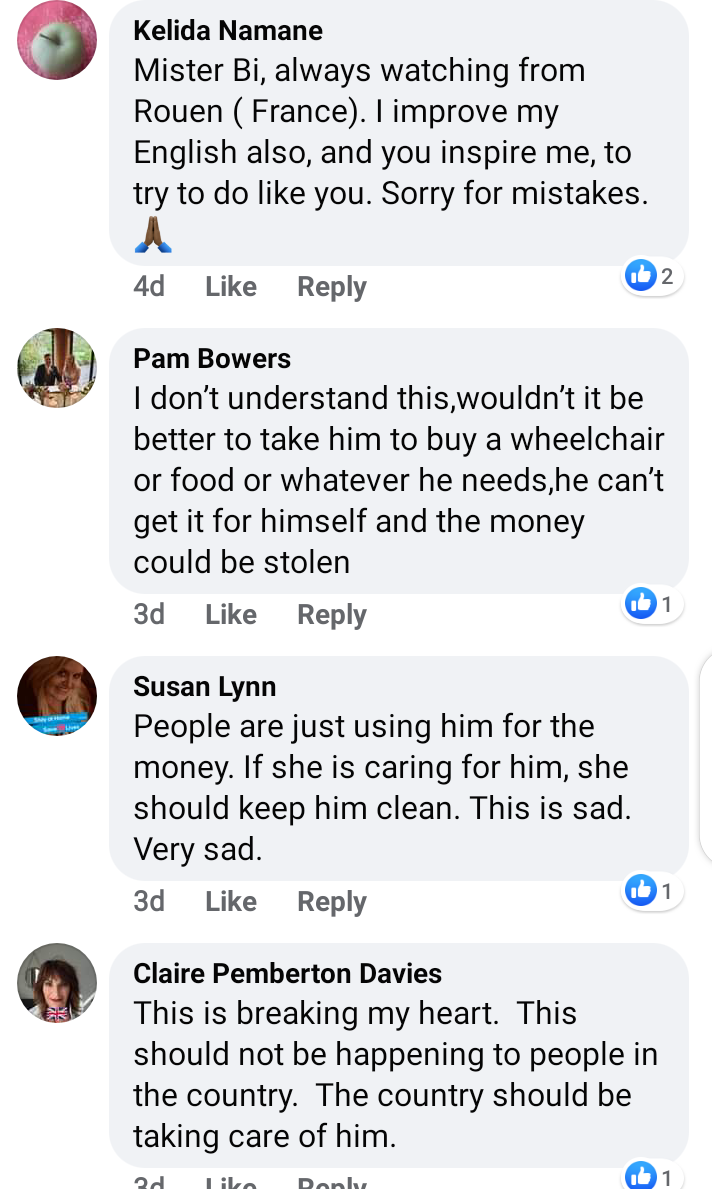 watch video below;