Don't Legalized Prostitution, We don't want Our Children to be Prostitutes- South Africans cry Out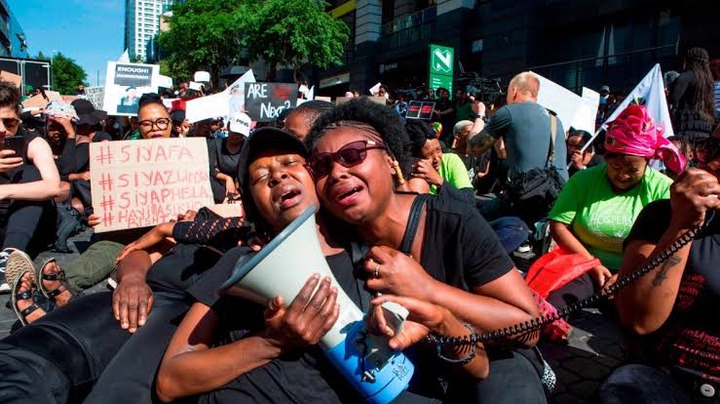 South Africans broke silent on Twitter regarding the bill which is currently been discussed, that Prostitution should be legalized in South Africa due to lack of Job opportunity for female South Africans.
The bill was being presented by Naledi Chirwa who demand that Prostitution should be a legal thing in South Africa instead of arresting any female found in the act of Prostitution in South Africa.
However, some South Africans don't not concured to the bill, as they proclaimed that their children don't want to be Prostitutes that if Sending a child to school is to graduate and become a Prostitute, then the future holds nothing for them.
South Africans on Twitter then added that, Instead of South Africa government to have Legalized Prostitution they should provide job opportunities for South Africans.
The situation triggered the reactions of south Africans on Twitter, as a South African man asked a question regarding the bill of legalizing Prostitute, according to him, "have you ever seen a child having the intention of growing up and becoming a Prostitute as his or her profession"?
Nevertheless, south Africans has vowed to never Supports the bill of legalizing Prostitution instead they are demanding for employment.
Below are some reactions by south Africans;
@im
Instead of saying "we going pull out all women in prostitution and give them better opportunities" they say we'll legalize prostitution. This is indirectly encouraging human trafficking. Laws protecting decent women are not obeyed, how much more for a prostitute!!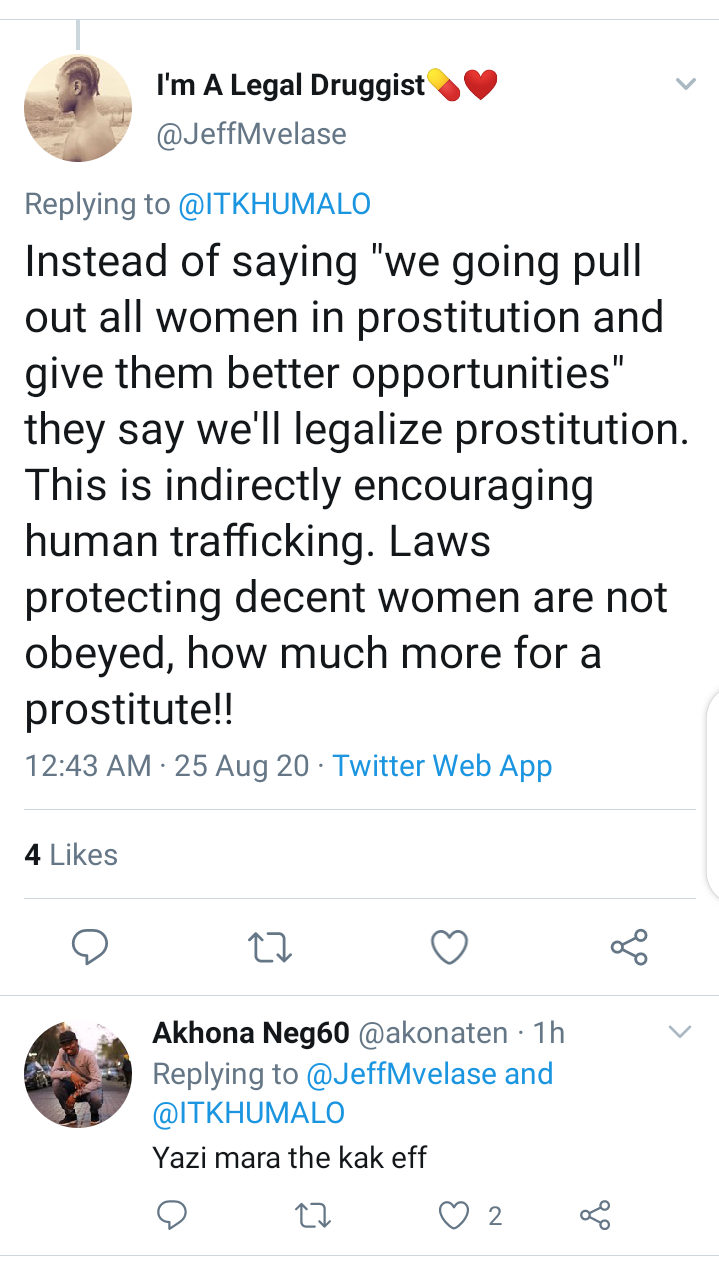 @Langa
I swear to you we leave in the last days 😭😭😭😭 why do we even take them to school if their future is there estradeni, while they say legalise prostitution they still have to call for men to come fu*k those women, what kind of msunery is that? We're Doomed 🤞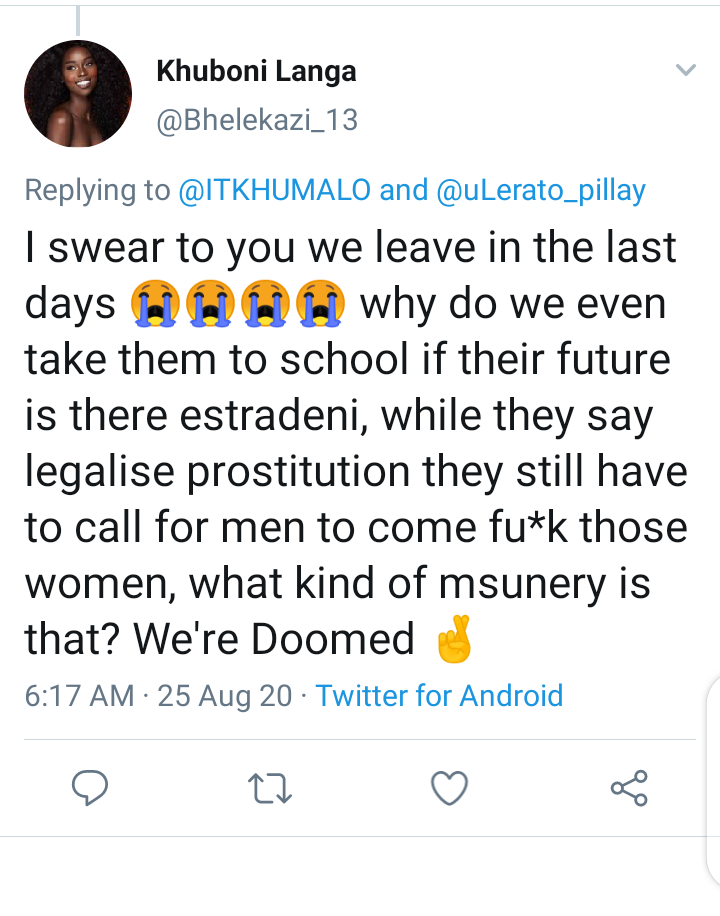 @Antar
There is no human being with childhood ambition of becoming a thief/armed robber, hitman/inkabi and Prostitute in his/her adulthood.
The society craft this survival mode with the power of individual free will.
Name 1 nation you can boldly say prostitution doesn't exist?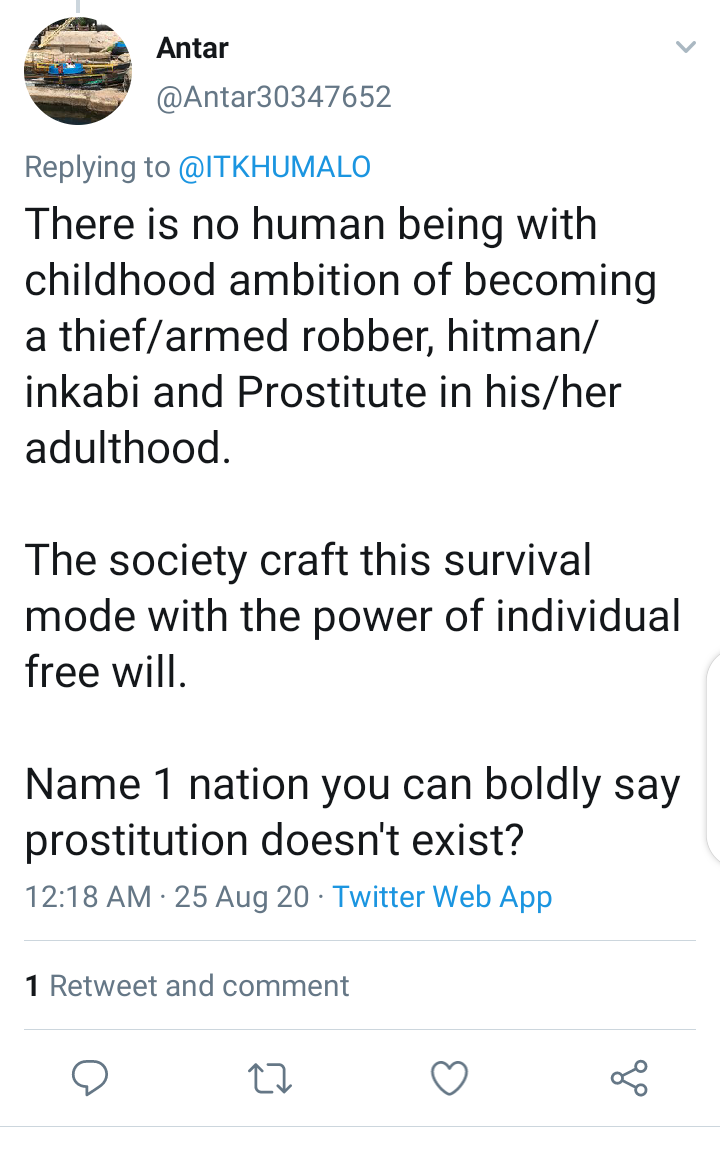 @Mqansa
No I wouldn't allow the to. EFF is pushing for that to happen because of the circumstances that have brought us here. People are suffering more under your clever ANC government. Only clever blacks like you would ask such a stupid question. Umunt omnyama umnyama nento yakho.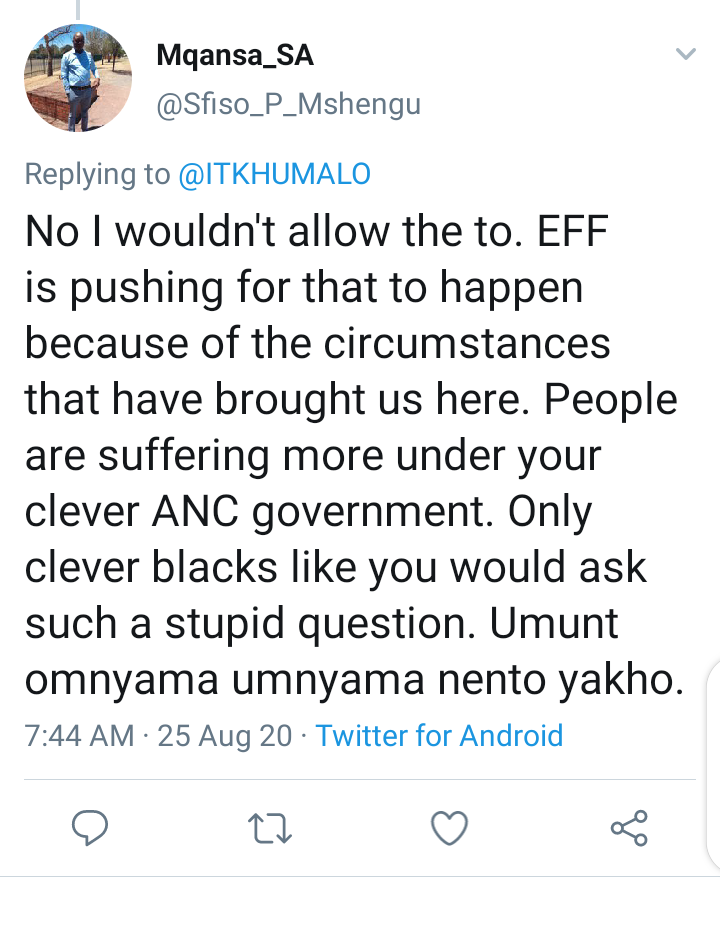 What can you say to this?