Muslim Girl Survives Forced Marriage, Finds freedom after giving her Life to jesus Christ
Muslim lady who has been practicing Islamic religions from birth encounters jesus Christ after she was forced to marry against her will to a man she did not know before.
According to the report, Muslim lady named Ryeesa was married against her will his parents who were Islam by religion, Ryeesa was married to a India man who she was not familiar with.
The unfortunate thing was that the man who married Ryeesa never loved her, he only married ryeesa as medium to travel to England with the intention of working his papers to immigrate later after the whole process.
Ryeesa later joined police force, it was in the police force she met a college named Anna who was having so much zeal and vibrancy relationship with jesus Christ, Rayeesa had read the bible and Quran multiple times but was still confused knowing not which one to believe.
"What's so special about Jesus? Just tell me," Rayeesa asked her Anna. "Why do you love Jesus so much?" then she continues explaining to Anna all that she has learnt about christianity and Islam below: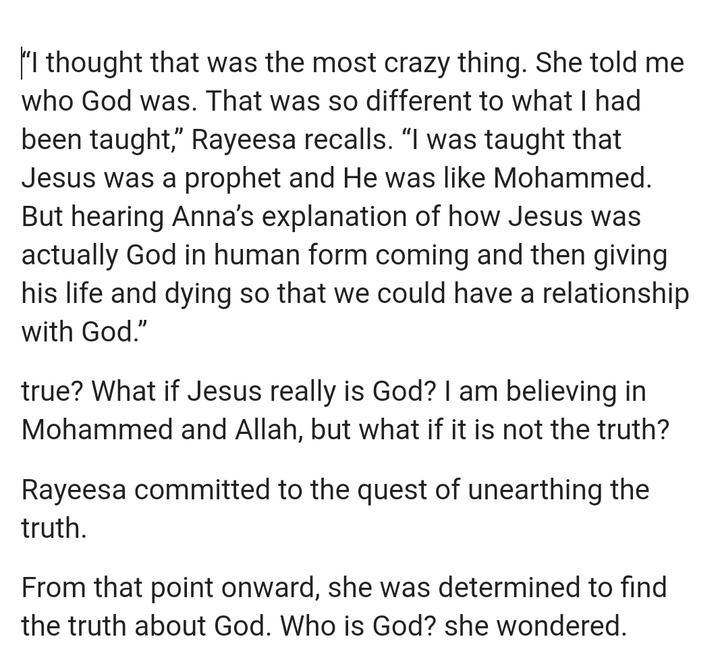 Having so much intention to know about Christianity, Ryeesa went down on her kneels and prayed a short prayer for the first time saying, "Jesus if you are rea, if you are who they say you are, i open my heart and i want you to come in.
Then God answered her prayer in a remarkable way. "Suddenly the minute I said that it just felt like I was flooded with love. It was an instant feeling of being washed and accepted and I knew then that this Jesus is real," she recounts. "Worry and fear and everything was just washed away by this love and I felt complete.
"I knew I had met God," she says. "I had met Jesus. The Bible is the final word. It is the Word from God. In the Quran it does say that Jesus is the Word of God."
Watch video below:
What can you say to this?