I didn't tell my boyfriend i was coming to his house, when i got there this is what i saw.
Beautiful lady posted her bitter experience with her cheating boyfriend, who did not know that she was coming to his house but caught him doing unbelievable things with another girl.
According to the report, the lady said she went to her boyfriend house unannounced because she did not inform him, but unfortunately for the boy he did not lock his door because he was careless and i entered the house, lol and behold he was completely naked including the lady that was inside the house , he saw me and was like ooh you are here, don't just stand at the door come inside she said..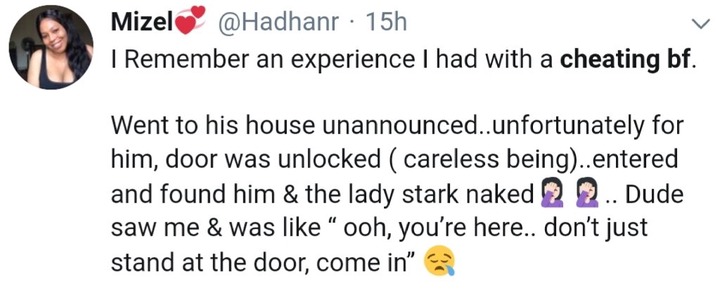 However, Twitter user did comfort her concerning her bitter and painful condition her boyfriend left her, because what she saw was really heartbreaking ans it take a strong woman to bear such.
What can you say to this?