The social media is currently alive from the reply a lady posted on how she paid her boyfriend for cheating on her.
A lady identified as iiit_subu on twitter narrated how she paid her boyfriend back in his own coin for cheating on her.
While reacting to the post made on twitter on Sunday 25 May, by Bhongo Mikealson @ithastobecrack. Bhongo made a post on Twitter that reads" Please Cheat on men every chance you get"
The reply of a lady identified as iiit_Subu shocked everyone on twitter, on how she dealt with her cheating boyfriend. She said when her ex-boyfriend cheated on her, to pay him back she had an affair with his boss and got him fired.
This goes to show the length some people could go to seek revenge for offending them.
Guys, please be careful the ladies are no longer taking things lightly. Please try not to cheat on your girlfriend or wife. You never can tell how she will respond. And ladies please don't cheat men, men don't like it.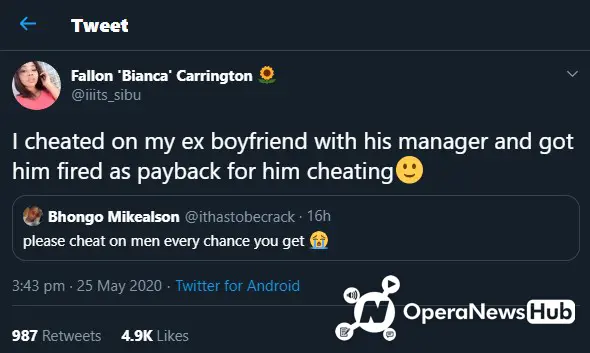 Twitter has been on fire since the tweet surfaced
Here is some of Twitter reactions:
"Pray and pray deep…don't forget to fast…this might comeback and haunt you"
"I get the cheating part but to get him fired? Yoh that's which-craft 😂"
"When a woman seeks revenge, even the devils sits back for lessons" 😭😭
"Getting smashed, getting infected u call it revenge?"
"I pray it does, this is not funny at all… You can temper with a lot of things but not a man's bread."
Do you think the lady getting the guy fired is the right thing to do?