Stray bullet by Nigerian police penetrated the roof, hit a baby sleeping in the room
Nigerian man took to his twitter handle to explain how his friend little baby miraculously escape death, after an astray bullet fired by unknown police men penetrated through the roof and hit the baby.
It was gathered that the incident occurred on Thursday at Nkpogu roundabout, Transamadi in the capital city of the oil-rich state around 9 pm in port Harcourt.
The Nigerian man also said, that the mother of the baby had gone out to buy diapers and the baby was with her father in their home when the bullet ripped through their roof and hit the baby on his belly.
But to God be the glory, the bullet did not go direct inside the baby Tommy, it only brush his flesh.
The man posted below :
@Chiukwujioke wrote:
"Pls I need this police to be caught and charged to Court. A flying bullet by the Nigerian police nearly killed my colleague daughter yesterday night at Mkpogu, trans amadi, Port Harcourt."
He added:
"The father said the bullet came straight from the roof. Pierce the roof down to the baby."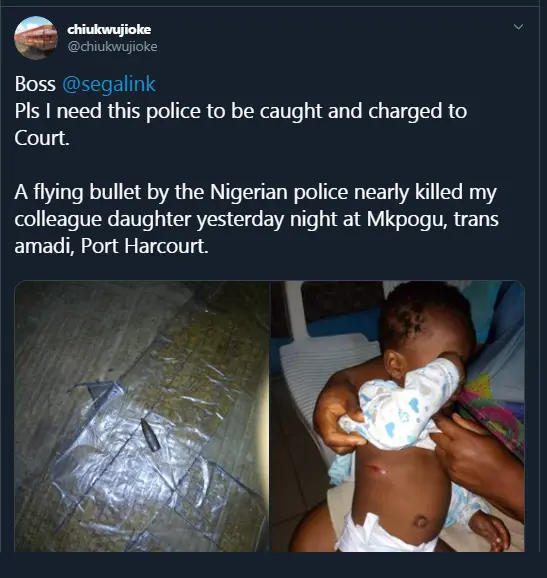 What can you say to this?
By http://www.daybreaknew.com.ng